Green spaces
Our Local Nature Reserves and informal green spaces cover almost 1900 hectares. These provide free access to nature for local communities, including:
disused railway lines
old gravel workings 
restored colliery tips
surfaced tracks and trails, see walks and rides
woodland.
Local Nature Reserves (LNRs)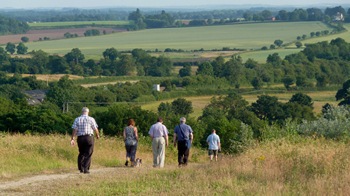 These sites contain natural features that are special locally and provide opportunities for environmental education/research and the simple enjoyment of nature.
The special natural features usually relate to wildlife conservation or geology. The preservation of these features, normally through active habitat management, and input by the local community is greatly valued.
We manage sites specifically for nature conservation and biodiversity. Some of our sites include threatened habitats within Nottinghamshire, such as lowland heathland and calcareous grassland and species such as skylark, water vole and white-clawed crayfish.
'Friends of' groups often do voluntary tasks on a particular site, giving you the chance to contribute to conservation. Alternatively, you can visit your nearest LNR to enjoy nature close to your home.
Visit a green space
Find out more about some of our highlights:
There are also areas of 'open access' land where you can stroll off the path, explore, have a picnic or play games. These spaces are for walkers only, though you can cycle or ride across it if you're following a bridleway. 
All types of access land are shown on Ordnance Survey Explorer maps. View our guide to Ordnance Survey maps for Nottinghamshire [PDF]
---
Related links