Cockglode and Rotary Woods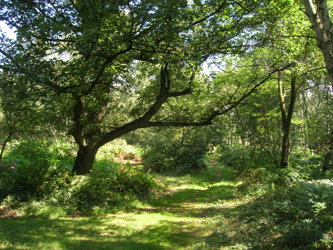 a site of contrasts
fantastic views of the surrounding Sherwood landscape
dogs welcome on a lead or under close control.
Cockglode Wood has ancient origins, being a remnant of the woodland that covered the area long before it became the Royal Hunting Forest of Sherwood. The bluebells and dog's mercury that appear in the wood every spring are clues to these ancient beginnings.
Rotary Wood is the exact opposite. The native trees were planted on the restored spoil tip of Thoresby Colliery in 1998 – 1999 to celebrate the Millennium. 
On a trip to Cockglode and Rotary Woods:
see the exotic trees and shrubs, such as false acacia and rhododendron
spot various butterflies, insects and ground-nesting birds that take advantage of the maturing woodland and wide grassy paths.
soak up the 

 fantastic views of the surrounding Sherwood landscape. This is easily accessed via the circular Rotary Walk from the Sherwood Heath car park just off the A614 Ollerton roundabout. From the top of Rotary Wood it is possible to see over Cockglode Wood towards Boughton Pumping Station as well as towards Sherwood Forest Country Park and the village of Edwinstowe with its prominent church spire.



Much of the habitat management work is done on a voluntary basis by the Friends of Sherwood Heath in conjunction with the Sherwood Forest Community Rangers. Find out more about volunteering.
Map
Nearest Town/Village: Edwinstowe
Access Point: Ollerton Tourist Information Centre Car Park (off the A616 at Ollerton) or on foot from the A6075
Grid References: Sherwood Heath Car Park: SK 650 675
Cockglode & Rotary Wood SK 640 641 674