Countryside volunteering opportunities
Please note that due to the ongoing COVID-19 (coronavirus) outbreak, we are unable to offer any volunteering opportunities or related events until further notice.
There are lots of opportunities to volunteer on countryside activities at one of our country parks. You can complete an enquiry form to register your interest.
Why become a countryside volunteer?
There are many benefits to volunteering outdoors. It can help you to stay healthy, be social and provide vital skills to help with future employment opportunities. You can also make a valuable contribution to the Nottinghamshire countryside.
The typical conservation tasks that you may be involved with include:
weed-pulling
clearing rights of way
tree maintenance
pine-pulling on heathland
litter clearing.
See below the opportunities available at our country parks and complete an enquiry form to register your interest.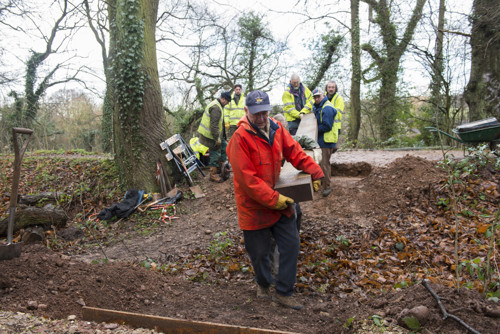 conservation days  - Nottinghamshire County Council run a conservation task day open to the public every Thursday.
Winding Engine House volunteers - you can help to refurbish, restore, repair and run the Winding Engine House and host guided tours for the public. If you'd like to volunteer, we'd love to hear from you.  
The park holds regular volunteer days where you are welcome to lend a hand on conservation tasks. No experience is needed and we will provide training, equipment and refreshments.
"I come to Cotgrave Country Park in the winter to enjoy the flocks of finches, tits & love to listen to the abundant birdsong along the hedgerows & in the reed beds & if I'm really lucky, purring turtle dove & kingfishers in the pool, magic!" - Lynne Demaine, Friends of Cotgrave Country Park
conservation days - join the Ranger team for park conservation days. Sessions are held on first and third Sunday of the month and Wednesdays

shed group - learn how to make woodland products from felled wood from the forest. Sessions are held Tuesday 10am to 4pm
Sherwood Pines - the Forestry Commission manage dig days, practical conservation and corporate task days. Find out more at: volunteering at Sherwood Pines.
You can get involved with conservation tasks in park and abbey. We also run excavation digs during the summer, for enthusiasts and families.
Find a local wildlife group or conservation organisation 
You can help to protect, restore and improve the Nottinghamshire countryside:
Friends groups
These are groups of local people who are passionate about maintaining and improving green spaces in their area. Activities include: conservation tasks, organising events and walks, and acting as a liaison between the County Council and wider community.
"I enjoy working at Tippings Wood with my wife and pals. Our average age is 72 but this does not stop us strimming paths, thinning trees and stoning footpaths. It keeps us fit and we enjoy the banter and have a laugh" Bob Clifford, Friends of Tippings Wood.
If you'd like to take an active role in the countryside in your local community, look up a Friends of group: