Leader of the Council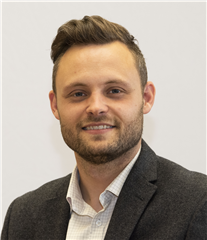 Born in Ripley, Derbyshire, Ben Bradley initially went to Bath University to study Sports Science. After deciding that the course wasn't right for him, he dropped out and worked as a landscape gardener and an Administrator. He later returned to University, where he graduated with a first-class honours degree in Politics from Nottingham Trent University in 2013.
Following this, he took on several roles, including working on the shop floor at ALDI and as a Recruitment Consultant, before taking on the role of Campaign Manager for Mark Spencer, the Member of Parliament for neighbouring Sherwood prior to the 2015 General Election.
In 2015, Ben stood and was elected as a District Councillor in Hucknall, and was duly appointed as Group Leader for the Conservative Group on Ashfield District Council. He became Mr Spencer's Parliamentary Office Manager, and in early 2017 successfully stood and was elected for Nottinghamshire County Council.
Ben became Member of Parliament for Mansfield in the snap General Election in June 2017, and was re-elected in December 2019 with a hugely increased majority over 16,000 votes.
Following his successful re-election to Nottinghamshire County Council in May 2021, representing Mansfield North, he was chosen by his Councillor colleagues to be the new Leader of Nottinghamshire County Council.
Ben is married and has two young children and a dog, Dexter. Outside of work he particularly enjoys sport and, along with his wife and children, plays field hockey.
Ben Bradley MP, Leader of Nottinghamshire County Council shares how he feels to be the newly elected Leader and talks COVID recovery, the Council's priorities going forward, and more...