Chairman of the County Council

Councillor Mike Quigley MBE
Councillor Mike Quigley MBE was first elected to Nottinghamshire County Council in 2009, and was re-elected in 2017. Along with representing his Retford constituents, he has served as a Member of the Fire Authority, Vice-Chairman of the Audit Committee, and Vice-Chairman of the Police Authority, with responsibility for Human Resources and Professional Standards. He is also a member of Bassetlaw District Council, having previously served as Leader, and as Chairman of his local Parish Council.
Born in Nottingham, Mike grew up in Yorkshire after his father relocated to Leeds. Upon marrying his wife, Wendy, he moved near to Selby, until a work promotion brought him back to Nottinghamshire – first to Clarborough, and then to Retford. Mike has worked for several manufacturing companies and ran his own consultancy business, working across both public and private sectors.
Mike is an active and highly respected member of the community. Having been a School Governor for over 40 years, he now Chairs the Diverse Academies Trust, which is based in Retford and has 14 academies around Nottinghamshire. He is also Chairman of Trustees of the Hospice of the Good Shepherd, and the King Edward VI Trust.
Mike was awarded his MBE in the New Year's Honours list of 2004 for his work with local charities and notably the Bassetlaw Hospice of the Good Shepherd, for which he was instrumental in raising funds to build. He was also involved in the fundraising and building of Clarborough Village Hall whilst Chairman of the Community Association and Parish Council.
Mike is interested in Motor Sport, Rugby Union, and Cricket, but only as a spectator these days.
Mike and his wife Wendy were foster carers for many years, and still have contact with their foster children.
Chairman's Charity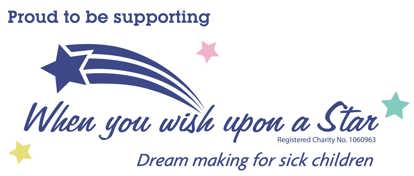 The Chairman of the County Council is supporting When You Wish Upon a Star as his chosen charity. When You Wish Upon a Star has a simple mission, to grant the wishes of children living with a life threatening illness. The charity was founded in Nottingham by Barbara White, who was so inspired by a seriously ill four year old with a dream to meet Mickey Mouse, that she wanted to bring smiles to the faces of many more brave and courageous children. Wishes have the power to transform the lives of the children and families they work with, and since 1990 the charity has proudly granted over 18,500 wishes both in Nottingham and across the UK.
All donations to the Chairman's fundraiser will go to granting the wishes of Nottinghamshire children. If you would like to contribute, please follow the link below.
If you wish to contact the Civic Office to make a donation via bank transfer, please email civic.office@nottscc.gov.uk
Vice-Chairman of the County Council
Councillor Roger Jackson
Councillor Roger Jackson grew up on his family farm in Gonalston, where he still lives and works, as his family have done over three generations. He has been a County Councillor for Southwell since 2013, and a District Councillor for Newark and Sherwood since 2003.
Roger is actively involved in many organisations both within and outside the Authority. He is Conservative Spokesman for the Fire Authority and Vice-Chairman of Finance Committee at the County Council, and Chairman of Leisure and Environment at Newark and Sherwood District Council.
Aside from his duties as Councillor, Roger is a partner in a wholesale meat company which operates in Nottingham. He has been part of the Nottinghamshire Young Farmers' Club for most of his life and is now the County representative on its Executive Committee. He is also Chairman of the Nottinghamshire County Show, which is held every year at Newark Showground.
Roger lives with his partner Jilly, and they have two children and seven grandchildren between them. He keeps racehorses, and is Vice-President of Southwell Rugby Club, where he played for many years. He is also a season ticket holder at Nottingham Forest.