Information for professionals
Self-referrals from families are also accepted, and, parents can download and complete the 'Request for Service' form and return it to their local Children's Centre by dropping the form in or emailing it to the relevant team.
The Children's Centre Service is available across Nottinghamshire, and the service is split into teams also known as 'clusters'. Each team is led by a children's centre Co-ordinator. The service is led by two Service Managers.
The service is delivered by Nottinghamshire County Council, within the Early Childhood Services group in the Children and Families Department.
The Children's Centre Service provides early help and targeted services for parents to be and families with children under five years old. Nottinghamshire's Children's Centre Service is focused on meeting the following outcomes:
Ensuring children achieve a good level of development, are ready for school, and are supported to close the attainment gap
Helping parents to be 'job ready' with increased aspirations for themselves and their children
Supporting children and parents so they have improved health, emotional health, and wellbeing
Ensuring that the needs of children and their families are identified early, and the risk of harm is prevented
If you want to make a referral, please  complete the form online.
Service offer
Most services are delivered by Children's Centre Service staff either in the home or at an accessible site, either 1-to-1, or to a group. Some will be delivered in partnership with other agencies or by agencies using the Children's Centre sites, such as Domestic Abuse Services, midwifery, Healthy Family Teams, or childcare providers.
The service is also complemented through the deployment of volunteers for the delivery of some universal services, such as Stay and Play groups for all under 5s and Under Ones groups.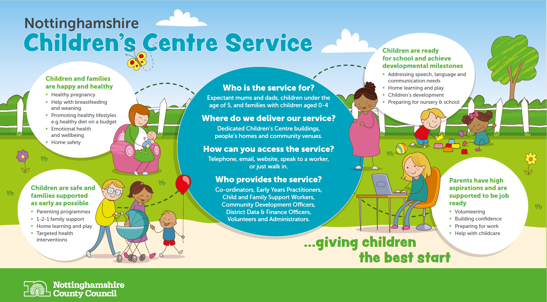 The Children's Centre Interventions Guide for Referring Agencies [PDF] describes most of the targeted services and interventions offered by the Children's Centre Service.