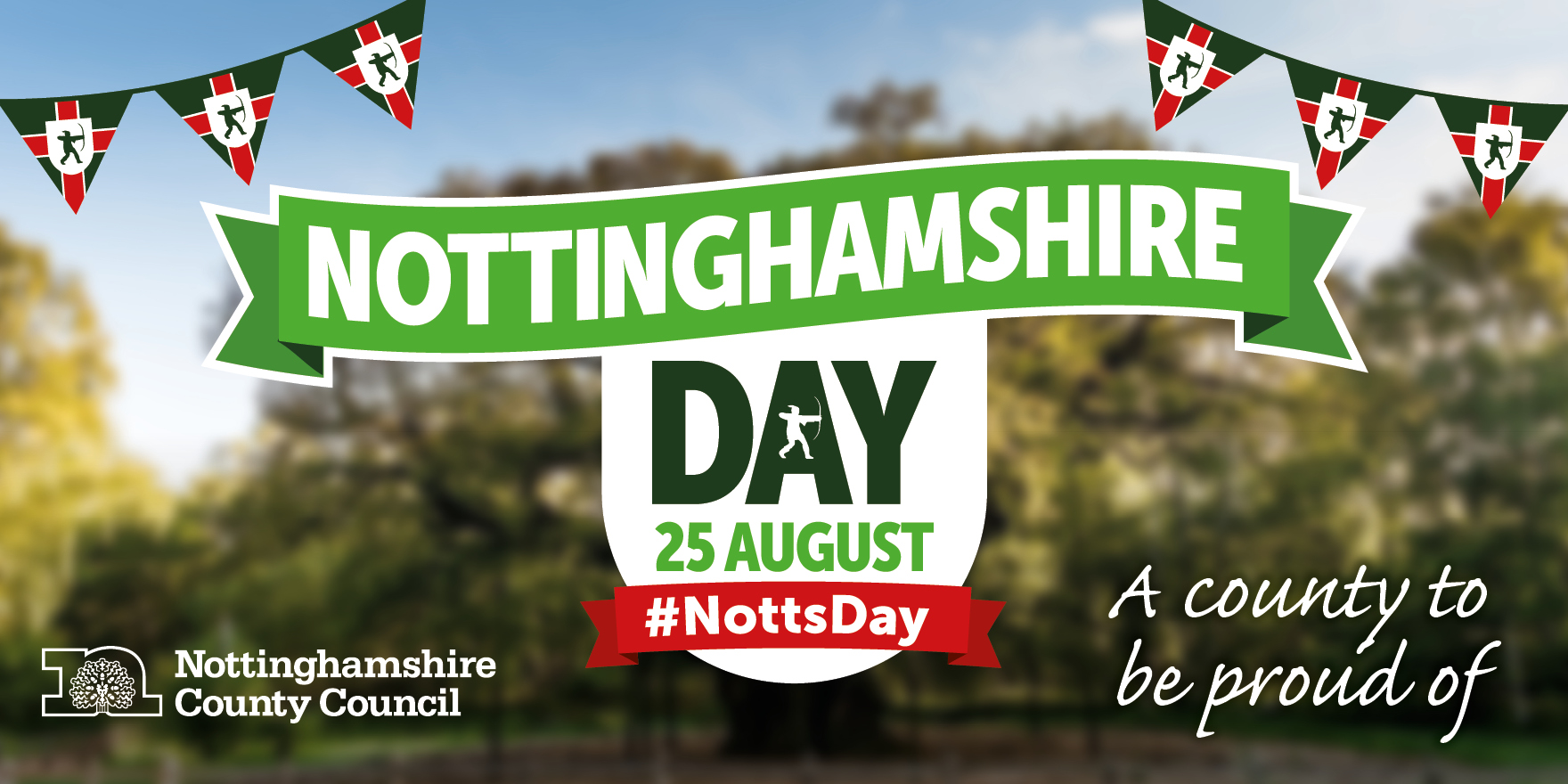 Nottinghamshire Day
Wednesday 25 August 2021 will be the first ever 'Nottinghamshire Day', a day in which residents and organisations are encouraged to celebrate all that is good in our amazing county.
The Nottinghamshire Flag will be raised at County Hall on the day, however this year the celebration will be primarily virtual and we encourage everyone to participate on social media by sharing what they love about where they live using the hashtag #NottsDay.
We wanted to make this year's 'event' as sustainable as possible and have consciously decided against producing any non-recyclable marketing materials and collateral, and instead would encourage you to download and utilise some of the digital assets below. 
How you can get involved
Assets for businesses
The local economy is one of the key themes of Nottinghamshire Day, and we are keen to use Nottinghamshire Day as an outlet in which you can promote your business. 
As such we have created a number of online assets and posters with the #ShopLocal and #SupportLocalBusiness messages, and will continue with this theme of encouraging people to support Nottinghamshire businesses on the day itself.
We would encourage you to display these in your premises and online channels on Nottinghamshire Day as a way of showing pride in your community.
General Social media assets

Facebook image frame
You can show your support for the day and pride in where you live by showcasing the Nottinghamshire Day image frame (pictured) around your Facebook profile picture for you and your organisation.
Personal page: 
Click on your profile picture and then select 'add frame'

Search 'NottinghamshireDay' or '#NottsDay' under the 'choose a frame' option

Choose either the light or dark green to suit your preference.
Organisation/business page: If you or someone you know has a Facebook business page, you can  showcase the #NottsDay frame around your logo by:
Using a desktop, visit www.facebook.com/profilepicframes 

Go to the bottom left corner and select the page

Search for the frame (#NottsDay or NottinghamshireDay)

Choose either the light or dark green to suit your preference.
General poster and other graphics
Single Colour
Something missing?
If there are any assets missing which you would like to utilise, or you are unable to download the asset(s) you require, please email news@nottscc.gov.uk.
Social media 
As mentioned above, along with many partners and local media outlets we will be dedicating our social media channels on the day to celebrate Nottinghamshire Day. Please join in by sharing your images and videos from places you love in the county using the hashtag #NottsDay!