Stories of community support during the Coronavirus pandemic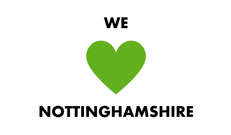 Read stories of how local residents and community groups are pulling together and helping others.
Have you or any community groups you're aware of gone the extra mile during COVID-19? Let us know so we can share – and give the recognition you/they deserve!
Please email andrew.lowe@nottscc.gov.uk with details.
Story
Area
Summary
1,000 Hub requests successfully resolved

Nottinghamshire

1,000 Hub requests successfully resolved | Nottinghamshire County Council

Since its launch at the end of March, the Nottinghamshire Coronavirus Community Support Hub has now successfully resolved more than 1,000 requests for help

Mansfield family thank their 'knight in shining armour'

Mansfield

The Norton family from Broomhill, Mansfield have not left home for the last 12 weeks.

Rosie the Little Pink Tuk Tuk

Bingham

The Rosie May foundation based in Bingham are utilising Rosie the Little Pink Tuk Tuk to help vulnerable families and residents who are self-isolating, by training volunteers to drive the Tuk Tuk so they can deliver basic essential items and help keep them safe.

The 'Hucknall Community Care - Coronavirus' Facebook group

Hucknall

The 'Hucknall Community Care - Coronavirus' Facebook group have been out on the streets of Hucknall, offering help and support to local people stuck at home.

 

Cookery challenge inspires budding bakers at Carr Hill Primary School - and the wider community!

Retford

Catering Manager at Carr Hill Primary School, Dawn Parsons set up a 'Cookery Challenge' for their pupils during lockdown and now she's running  a weekly challenge for the community!

Hucknall schoolboy does his bit to support front line health and care workers

Hucknall

Hucknall schoolboy William Foster has been doing his bit to support front line health and care workers by making ear savers at home on his 3D printer.

Emergency food parcels are a big success

Ashfield

A phone call results in food parcel delivery and near 'tears of joy'

Tied up in Knots!

Chilwell

A sewing, knitting and crocheting group in Chilwell have been putting their skills to great use making mask extenders and ear protectors.

Facing up to the fight against Coronavirus

Keyworth

The Keyworth-based Nottingham Face Shields group is producing plastic visors for free and donating them to local NHS and key workers. 

First class support from Newark Community First Aid

Newark

Newark Community First Aid have taken on a number of varied requests to help out in their local community.

Helping all creatures great and small!

Nottinghamshire

Sewa Day in Nottingham have been supporting the Council by donating baby food and pet food to be distributed to food banks around the county.

Mansfield friends face shield challenge together

Mansfield and surrounding area

 

A team of volunteers based at West Notts College have 3D printed over 3,000 face shields for distribution in the local community.

Council helps Pauline stay in touch during lockdown

Broxtowe

A Stapleford lady who is deaf and has a visual impairment has been handed a lifeline to help her keep in contact with family and health services