Nottsbus Connect
Nottsbus Connect is a network of connecting local bus services, helping to improve public transport links across the county. Nottsbus Connect provides feeder routes from local villages on to the main transport network.
Due to the coronavirus, Nottsbus services will now be running an on demand service which must be booked in advance between 10am and 12pm the day before travel. Please only travel if it is essential. 

On demand services:- 108, 123, 197, 204, 205, 217, 218, 219, 330, 333, 334, 335, 354, 417, 511, 532, 536, 747, 850, 852, 853, 535, 863 and Berry Hill Flyer.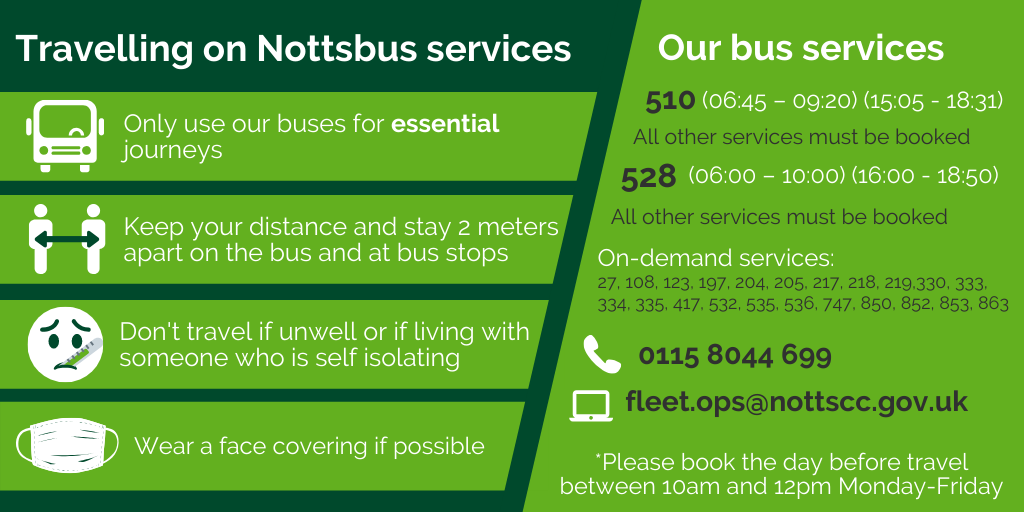 Additional information:
Avoid unnecessary contact with the driver, fares or passes are not required
Do not use seats marked Leave Vacant
Wash your hands regularly for at least 20 seconds before and after travelling
When leaving the bus, please remain seated until the vehicle stops and remain 2 metres from any other passenger alighting
Follow advice from staff and be considerate to others
Anyone wishing to use the service should call 0115 804 4699 or email fleet.ops@nottscc.gov.uk. Please call/email between 10:00am - 12:00pm Monday to Friday to book transport for the following day.