About Nottinghamshire
Nottinghamshire has a rich and varied culture. 
700 years of legends about Robin Hood and Sherwood Forest.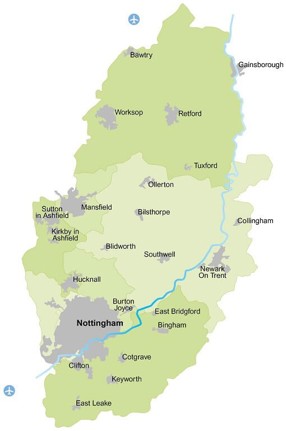 In the 17th century Newark in Nottinghamshire played an 
important role in the English Civil War.
In 1607 "The Pilgrim Fathers" left Bassetlaw, later leaving the UK on the "Mayflower" and forming the oldest continuously inhabited English settlement in the USA.
Our famous faces include literary greats such as Lord Byron, D. H. Lawrence and Alan Sillitoe to contemporary artists like Jake Bugg and Paul Smith.
Nottinghamshire has also been the home of great pioneers such as Salvation Army founder William Booth and Jesse Boot who established Boots the Chemist.
Bramley apples, Ibuprofen, the Raleigh Chopper bicycle and MRI scanning also all originated from the county of Nottinghamshire.
During the industrial revolution canals and railways came to the county, and the lace and cotton industries grew.
During the 19th century and for most of the 20th century collieries mining became an important economic sector.
Today, health and manufacturing are the largest industry sectors of employment in Nottinghamshire with major employers including Alliance Boots PLC, the NHS, Inland Revenue and ourselves.
Nottinghamshire boasts many sporting heroes including Brian Clough (football), Rebecca Addlington (swimming) and Stuart Broad (cricket).