Mental health and wellbeing
Around 1 in 4 people experience mental health problems every year. It is a widespread and common issue affecting people from all walks of life, and yet we often find it hard to talk about.
Everyone's mental health fluctuates, we all have periods of low mood, stress and anxiety. But it becomes a mental health problem once this carries on over a long period of time, affecting the way you live and think, making it hard to cope at times. You don't have to have hit rock bottom to require help, mental health is a spectrum and talking about it early on is important.
A mental health problem could include:
stress 
anxiety
depression
eating disorders
The Every Mind Matters website has some great tips and information on staying well, so if you're struggling, or you know someone who is, please visit it for advice. And remember, it is OK not to be OK.
There is a variety of support available to help you maintain good mental health and wellbeing. The NHS Choices website has a range of information and advice on mental health including tips for good mental health. 
Other good sources of support include:
How to get support
If you are concerned about your mental health, or you are worried about the mental health of a relative or someone you care for, the first thing to do is speak to your GP. They will help you decide what support is needed. 
Our Nottinghamshire Help Yourself website provides information about useful support and organisations to help you.
We provide a range of support for people with a mental health issue to help them live as independently as possible. To receive support from us you will need to have a care and support assessment and be eligible for care. 
If you are eligible, our community mental health team will help develop a support plan to meet your needs.
If you are aged under 18 and need support with your emotional health and well-being , you can access support from a number of services. 
If you are a student, young person or young adult, this leaflet gives you information on how you can access services and support to help with your mental wellbeing, including support if you are experiencing self-harm or thoughts of suicide.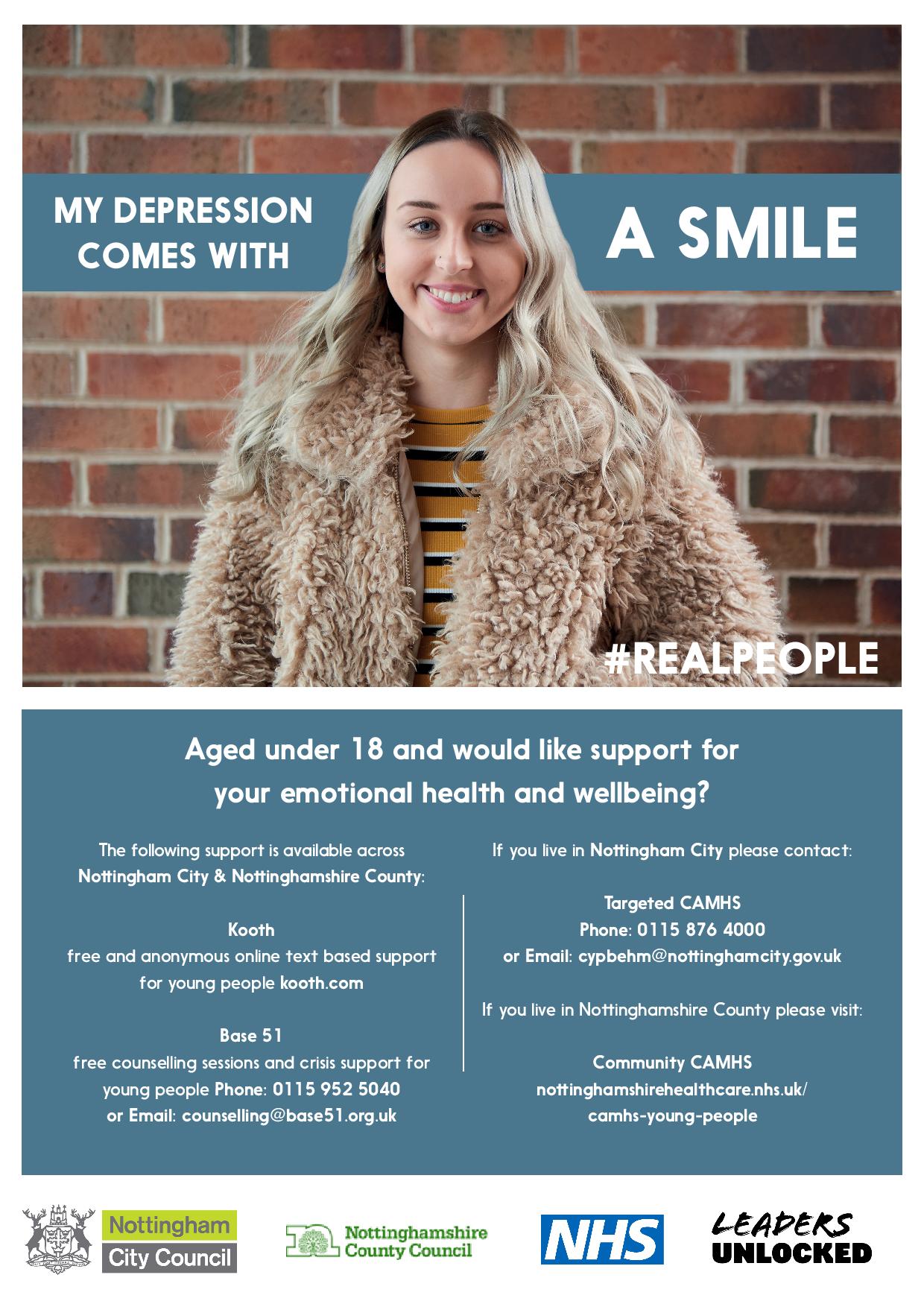 The following films were developed by young people in Nottingham and Nottinghamshire based on their experiences of with mental health:
Depression https://www.youtube.com/watch?v=agDkMsg4nG4
Eating disorders https://www.youtube.com/watch?v=_yWNGH8-Vd0
Anxiety https://www.youtube.com/watch?v=NW437lHM3es
OCD https://www.youtube.com/watch?v=k3v0o6ZAvPQ
Mental health helpline
0300 555 0730
The Nottinghamshire Mental Health Helpline is available 9-11pm seven days a week for anyone who needs emotional support or information about what help is available locally for people struggling with their mental health. Professionals are also welcome to call the helpline for advice on working with patients with mental health issues. 
A team of supportive mental health workers are on hand to provide information and advice e.g. techniques that people can use to manage anxiety. They will also be able to direct people to other services where needed.
The helpline website also includes useful information about a range of common mental health issues such as anxiety and low mood and how to promote feelings of wellbeing.
The helpline is delivered on behalf of Nottinghamshire Healthcare by Turning Point, a national social enterprise, which has provided specialist mental health services on behalf of the NHS in Nottinghamshire for over 30 years including a residential crisis service and also transitional residential support for people following a stay on a mental health ward.
Mental health crisis helpline
Nottinghamshire Healthcare Foundation Trust have a mental health helpline for local people in crisis.
The helpline number is 0300 303 0165 and is available to anyone in mental health crisis at anytime, anywhere across Nottingham and Nottinghamshire.
Available 24 hours a day, seven-days a week, it's the number to call if you are experiencing a mental health crisis and need immediate help. It's open to people of all ages who need urgent mental health support.
Crisis Sanctuaries
Nottinghamshire Crisis Sanctuaries provide mental health crisis support to local communities across the county.
---
Sources
World Health Organisation (WHO), The World Health report 2001 - Mental health: New understanding, new hope 
Mind – how to improve your mental wellbeing, July 2016