Electric vehicle charging in and around Nottinghamshire
The D2N2 electric vehicle charging network (Go Ultra Low programme)
D2N2 charge points, available to members of the public, are located across Nottinghamshire, Nottingham city, Derbyshire and Derby city. They have been installed to support the increasing uptake of electric vehicles.
Nottinghamshire County Council, in partnership with Nottingham City, Derbyshire County and Derby City Councils were awarded funding from the Office of Low Emission vehicles (OLEV) to help deliver a number of initiatives to promote and encourage ultra-low emission vehicles through the Go Ultra Low (GUL) programme. For further information on this programme, please visit the Charge Point Project web page.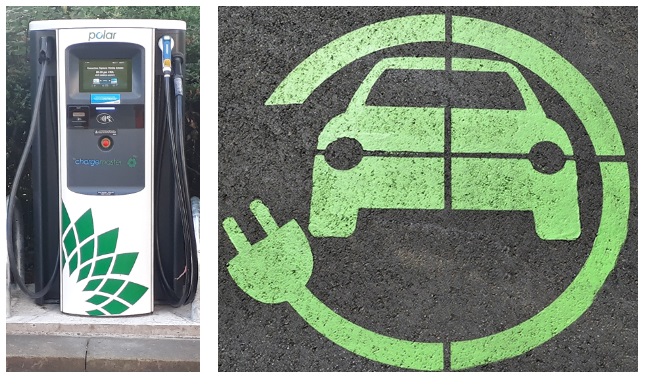 One element of this programme was the expansion of publicly accessible electric vehicle charging points to create an area-wide network across the three local authority areas. Charge points have been installed at key off-street locations near major roads, park and ride sites, council-owned car parks and retail outlets.
In 2017, the contract to deliver this project was awarded to Chargemaster, who installed and are maintaining the charge point infrastructure on behalf of the four councils. These charging points are part of the newly created D2N2 network, which offers reduced tariffs for residents.  
The D2N2 electric vehicle charging point map includes information on each of the D2N2 charge points, including the 23 located within Nottinghamshire.
Funding available for electric vehicle charging infrastructure
There are various sources of funding available to encourage and promote ultra-low emission vehicle (ULEV) usage in and around Nottinghamshire, whether you are looking to install electric vehicle infrastructure at home or work.
Electric vehicle charging infrastructure at home: Government Electric Vehicle Home-charge Scheme (EVHS)
To help plug-in vehicle owners offset some of the upfront costs of the purchase and installation of a dedicated domestic recharging unit, the Office of Low Emission Vehicles (OLEV) have made grant funding available to private households.
The EVHS provides grant funding up to 75% of the cost of one charge point (including installation), with up to a maximum award of £350 (including VAT) per household/ per eligible vehicle.
From 1st July 2019, the EVHS will only support smart charge points, as announced in December 2018. Please refer to the EVHS installer guidance for details of this change.
Electric vehicle charging infrastructure at work: Government Workplace Charging Scheme (WCS)
OLEV also offer a voucher-based funding scheme to eligible businesses/organisations, designed to provide support towards the upfront costs of the purchase and installation of electric vehicle charge point cost. 
Vouchers under WCS are limited to 75% of the purchase and installation costs, with up to a maximum of £350 for each socket, and a maximum of 40 sockets across all sites for each applicant.
Please refer to the WCS minimum technical specification and WCS approved charge point list for more information.