Apprenticeships
Apprenticeships within the Council offer high quality pathways to successful careers, providing excellent opportunities to learn new skills and develop your career. Our Apprenticeships are open to all ages from 16+, whether you are a school leaver, looking to re-train or get back to work following a career break.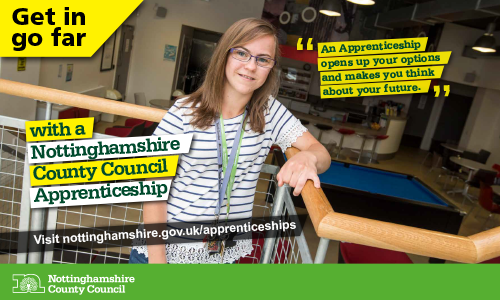 Joining the Council as an apprentice
The apprenticeship programme at the Council offers a range of exciting opportunities to develop your work and life skills. Focusing on the development of transferable skills and earning while you learn, there has never been a better time to join the Council. Your training will be delivered by an approved Apprenticeship Training Provider, chosen for their exceptional quality and commitment to learner achievement.
In addition to paying age related minimum wage, you are also entitled to all the benefits of working for the Council and will be supported through every step of your Apprenticeship with an excellent network of mentors and coaches.
In addition to our entry level Apprenticeship Programme, we also offer a number of our job vacancies as salaried posts with additional training opportunities against approved Apprenticeship Standards.
Apprenticeship opportunities are available across many locations in Nottinghamshire and in many different service areas including:
Business Support
Human Resources
Children's Services
ICT Services
Finance
Customer Services
Current vacancies
To view current Council apprenticeships, see our current vacancies listing.
Register for email updates about apprenticeship opportunities – sign up for the Jobs email bulletin.