Awards and Recognition
Long service awards
Individuals who have 25 years continuous or combined service with Nottinghamshire County Council are entitled to a long service award.
If you are an existing employee you will find further information and how to apply on the intranet.
Have a look at some of the phrases our customers have used to describe our employees: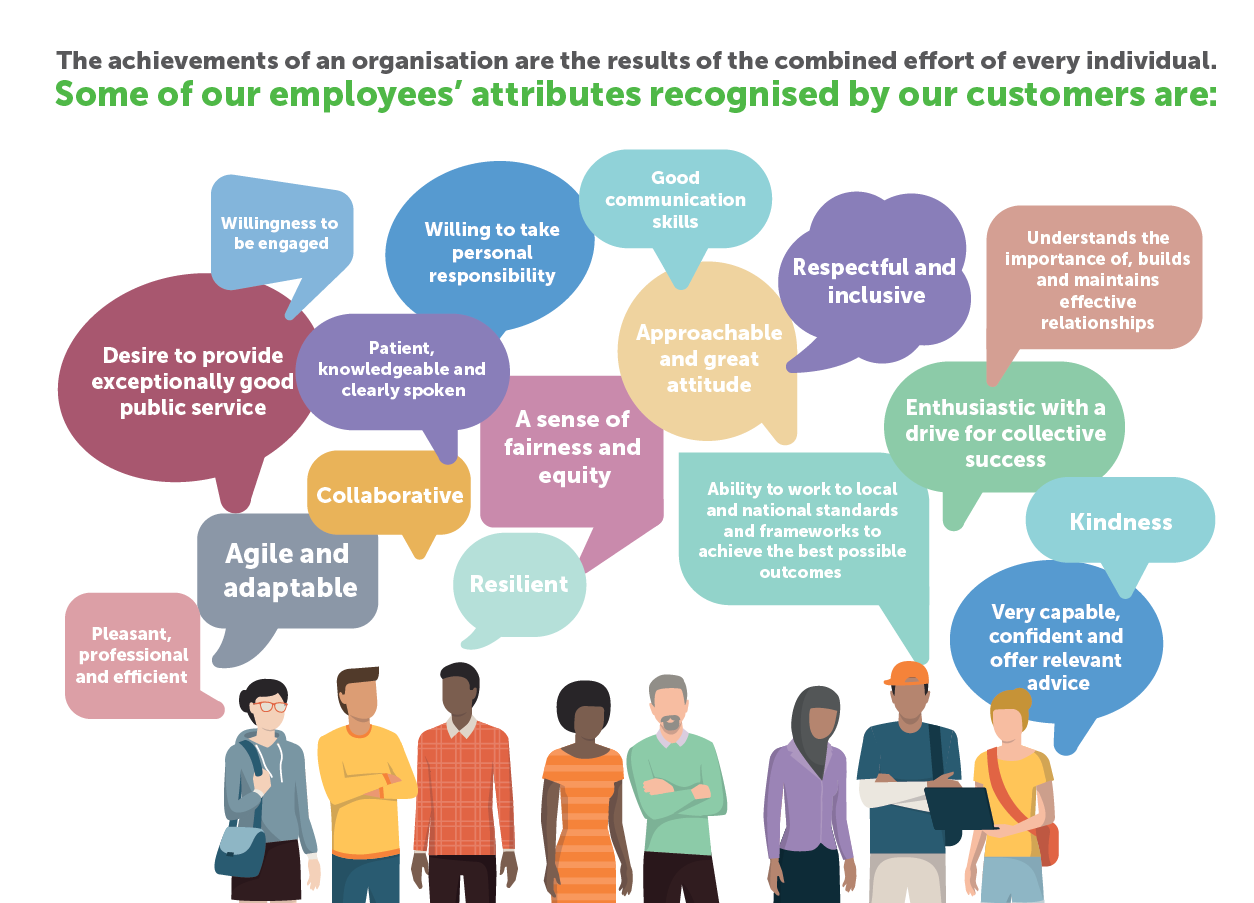 Presentation and Awards
Last year, awards presented to our employees in the Full Council.
Awards for the New Sherwood Forest Visitor Centre
The Council's new Sherwood Forest Visitor Centre received two honours at the prestigious Royal Institute of Charter Surveyors (RICS) Awards (East Midlands) and a further recognition at the Local Authority Building Control (LABC) East Midlands Awards. The awards were presented to Gemma Howarth, General Manager of the Sherwood Forest (RSPB) and Derek Higton, Director of Place and Communities.
ICE Large Project Award
The Council received an award for the food prevention scheme undertaken in Newark in partnership withSevern Trent Water. The award was presented to Sue Jaques, Team Manager Risk Management, Peter Goode, Traffic Manager at Via East Midlands and Clive Houldsworth from Highways and Transport.
Disability Confident Employer Award
The Council was accredited with Disability Confident Employer Award and this award was presented to Martyn Harris, Chair of the Disabled Employees Support Network.
Highest Performing Public Sector Employer East Midlands Award
The annual Stonewall Workplace Equality Index has ranked Nottinghamshire County Council as a Top 100 Employer and the best public sector organisation to work for in the East Midlands. The award was presented to Karen Moss, Corporate Equality Officer.
Make Your Mark Champion Award
British Youth Council presented MYM Champion Award to the Council. The award was presented to Jack Heald, Member of the Youth Parliament for Newark and Sherwood, and former Chair of the Young People's Board, and Amy Beckworth, Youth Worker, who alongside her team co-ordinated the Make Your Mark campaign in Nottinghamshire.
Association of Directors for Environment, Economy, Planning and Transport – Highly commended award
Council's Digital Growth Programme had been awarded as "Highly Commended" at the ADEPT President's Awards under the category of "Developing Digital Innovation and Technology". The award was presented to Emily Wormall and Trish Burke from the Growth and Economic Development Team.
Ambassador Centre Status Award
St Michaels Environmental Education Centre received Ambassador Status from the Peak District National Park. St Michaels was the first centre to receive this status. The award was presented to Ian Weeks, Head of Centre at St Michaels.