Hire an apprentice
Why apprenticeships work for business
Nine in ten firms report that apprentices benefit their business and firms report that hiring an apprentice helps to increase productivity by £214 per week.
Apprenticeships can help to grow your business and you can help to nurture local talent and meet young people who want to earn and learn.
How we can help
The Futures Apprenticeship Agency manage apprenticeships on behalf of the County Council and will employ an apprentice on your behalf. Futures is an approved employment brokerage service and recognised apprenticeship training agency.
Find out more about hiring an apprentice, how much it will cost and the support available.
Why apprenticeships matter: what businesses say
Rototek: Developing a younger workforce with high standards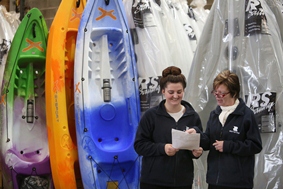 Rototek employs 80 staff from their premises in Newark and Worskop.
The firm uses cutting edge technology to manufacture small to large plastic based, moulded products ranging from medical supplies to sporting goods.
Rototek HR Manager Linda Cree believes apprentices can offer a useful strategic dimension to face the demographic challenges posed by an older workforce.
"We realised we have to plan for the future as our current workforce get nearer retirement age. We see apprentices as a way of developing a younger workforce who know how the company works and we have trained to our high standards. By growing young people with our business we can plan for a successful future."
"The grant encouraged us to have our first apprentice for a few years. It was a watershed moment for us as a business and one we're delighted to have taken. It's been a great way to develop our workforce and I'd recommend an apprentice to any business. You can give a young person a chance to have a career and get new ideas and energy for your business."
---
Grannies Tearooms: More than an extra pair of hands...a real asset for your business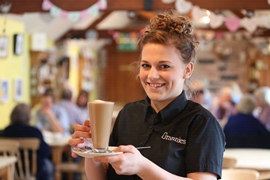 An extra pair of hands has joined the team at Grannies tearooms in Cotgrave.
Louise Beaumont, one of Grannies directors, recognised the benefits employing an apprentice would offer the business, "We wanted someone who could grow with the business. As a small firm it was important we got the right match in a new recruit and Chesterfield College were great and continue to offer invaluable support to us."
Keia Watson aged 16 from Cotgrave has been with the team since October and has fitted in well at the tearooms. Louise explained: "Keia is very capable and is now learning some culinary skills. When we're busy it's great to have Keia working alongside us delivering the high standards of service our customers expect."
Having had such a positive experience employing their first apprentice, Louise is sure it's a good move for any business: "Young people need work experience, and an apprenticeship is an ideal way to do this in the business. Employing a young person means you get more than an extra pair of hands – you get a real asset for your business." 
---
Dijitul: Tapping into the energy and eagerness to learn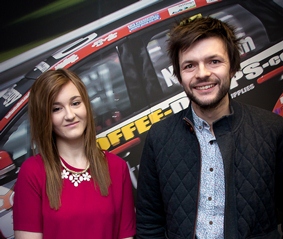 As someone who launched a business in his early 20s, Dave Hartshorne, Managing Director at Mansfield-based web development company, Dijitul, knows how tough it can be for a young person starting out. He had no hesitation in tapping into the potential, energy and eagerness to learn that apprentices bring to his expanding team.
Dave said, "Young people have the ability to absorb knowledge, to grow with the business, contribute fresh ideas and are eager to learn. I'm in my thirties now and don't have the same energy I had at 18, so it's refreshing to tap into that dynamism, which complements our experience. Since we started, we've taken on 5 or 6 young people who have been integrated into the company and are now running departments of their own."
Dijitul took on Emma Hoskins (then 17) of Sutton-in-Ashfield in June last year, with support from the County Council's YES programme, delivered by Futures. 
Emma explained: "I was first told about the apprenticeship opportunity at Dijitul by West Nottinghamshire College. At first my job was mainly admin – dealing with emails, answering calls and completing spreadsheets – but I'm now also involved in the sales side of the online office and home furniture part of the business.
"I really enjoy dealing with clients and managing the day-to-day operation of the website. I feel a lot more confident than when I first started. I would recommend an apprenticeship to anyone; it gives me the best of both worlds of gaining a qualification whilst getting work experience."
As well as the formal training and qualifications which come with the apprenticeship, Dijitul has developed its own development programme for its young recruits with the ambition of creating a highly-trained, digital workforce of the future.
Dave added, "Emma has blossomed since joining us. From starting out with mainly administration tasks, she now manages all aspects of one of our online shops, as well as carrying out a wide variety of admin duties. Although she's still only 18, over the next few years I can only see her developing further and I see her in an Office Manager role within a few years."
---
Dentsys: A dedicated workforce for a small business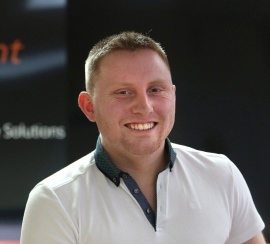 Established 20 years ago, Dentsys provides software for dental practices helping them to manage dental treatments, appointments and general practice management in the most cost effective way helping both patients and clinicians.
Andy Wilton, Software Development Manager, says: "It's great to work with a young person and introduce them to the world of working."
"Apprentices are great for asking the questions others might shy away from. They challenge how we work and what we're doing, bringing new ideas, helping us to develop our business."
As a small business Andy relies on a dedicated workforce and enjoys a low staff turnover.
"Employing an apprentice is a cost effective way to recruit new people into our business, as any new recruit, especially a trainee, will ultimately cost the business in both time and money in the early stages of what is hopefully a long career. The apprenticeship scheme helps towards these costs. 
It's also a great way to give a young person a start in the industry and learn in the 'real world'.
Jordan Lovatt, 19 from Arnold, joined Dentsys in the summer of 2014, as a Software Development Apprentice undertaking an NVQ Level 3 in ICT.
"I wanted to learn while earning and decided University just wasn't the route for me. I started at college but wanted to get a job. Searching online for jobs I came across the National Apprenticeship website and I've not looked back."