4Uth 2018 winners
The Nottinghamshire Outstanding Achievement Award 4Uth is a Nottinghamshire County Council initiative to celebrate the achievements of young people across the county.
A 'super seven' of young people from across the county have been named as the district winners of Nottinghamshire County Council's Outstanding Achievement 4Uth Award for 2018. 
There were approximately 80 nominations for this year's winner – with entries received from friends, family members, youth workers and people who work in a range of voluntary, public sector and other organisations. Judging panels in each district decided the winners from three nominations in each district, and a separate judging panel assessed the final seven.
The awards ceremony was held at County Hall on the 26 October, where the achievements of the 'super seven' district winners were celebrated and the overall county-wide winner was awarded to Darren Yemm from Newark and Sherwood.
Find out each winner's inspirational story below.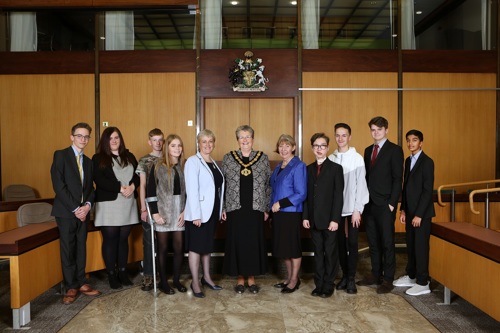 Ashfield winner: Jak Boden
Jak is 13 and lives in Huthwaite. He was nominated for the 4Uth award by youth worker, Paul Race, from Sutton Young People's Centre, in Station Road, Sutton-in-Ashfield, who highlighted Jak's positive attitude and his caring nature among the reasons for the nomination.
Paul explains: "The main reason I am nominating Jak for the award is his caring spirit. He is a young carer at home for his mum who suffers from pancreatitis. This causes her to suffer back pain and abdominal pains and has also caused his mum to suffer with fever, chills and vomiting. She also suffers with anxiety and depression. 
"Jak says he helps around the house, tidying up, cooking, going to the shops and doing some food shopping. He said his mum suffers with pain and tiredness which means, sometimes, she can be in bed most of the day. Jak thinks the world of his mum and wants to help make her life happier, He says he doesn't like seeing her suffer and being sad."
Jak is a pupil at Quarrydale Academy, and lives at home with mum Carol Jackson, and sister Hailey, 15. He also has the support of dad Matt Boden, who lives in Mansfield Woodhouse and visits regularly, and also three older siblings Kelly, 30, Andrew, 28, Matthew, 24. Jak's mum, Carol, says:
"We are over the moon that Jak has won this award. Jak has had some really hard times growing up, but he has been a solid rock for me. He does a lot for me and has a lovely caring nature."  
"Jak also loves attending his local Scout group in Huthwaite, making things, cooking, going on camps, and mixing with the other lads. He really excels there and he loves doing practical things. I am so proud that he has been nominated for this award, it's the first time he has ever been nominated or recognised for anything, it's made me really happy."
Councillor Tracey Taylor, Vice-Chairman of the Children and Young People's Committee, at Nottinghamshire County Council, said: "Many congratulations to Jak on winning the 4Uth district award for Ashfield. He's demonstrated time and again that he is there to care and support others while also being heavily involved in many community projects and he is a worthy winner of this award."
---