4Uth 2017 winners
The Nottinghamshire Outstanding Achievement Award 4Uth is a Nottinghamshire County Council initiative to celebrate the achievements of young people across the county.
There were 85 nominations from across Nottinghamshire this year.
Judging panels in each district decided the winners from three nominations in each district, and a judging panel assessed the final seven.
County Hall hosted this year's final on 27 October. The achievements of seven district winners were celebrated and the overall county-wide winner was awarded to Kaitlin Rose.
Around 100 people including family and friends of each of the finalists and members of the youth service attended along with Nottinghamshire County Council Leader Councillor Kay Cutts and Chairman Councillor John Handley.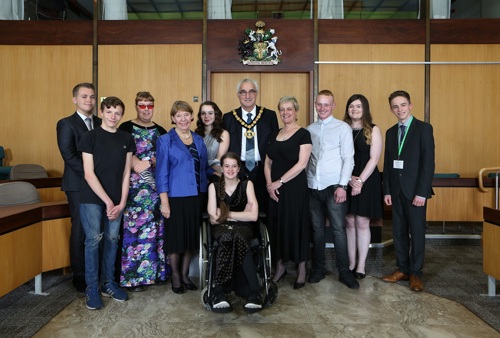 Overall winner: Kaitlin Rose
Teenager Kaitlin Rose has been crowned as the Broxtowe and overall winner of the 4Uth award for the way she has responded to disability and how she remains positive.
Kaitlin is 15, lives in Beeston and was nominated for the award by Paul Race, county council youth worker.  She lives at home with mum Claire and sisters Charlotte, 17, and Summer, 7.
Paul explains: "I have been delivering youth work sessions at Alderman White School for nearly two years. During that time I came across a young woman called Kaitlin Rose.  Kaitlin would be around the student support area when I was either setting up beforehand or clearing away after the session. The first thing that struck me about her was her infectious positivity and cheerful attitude. She was always polite and keen to find out about the sessions.
"As I got to know Kaitlin quite well I learned that she has a disability, Cerebral Palsy, and I know she is determined not to let this affect her zest for life!  She has endured five major operations already and she is very courageous."
After each operation, Kaitlin has had to relearn how to walk. Cerebral Palsy affects her muscle control, and movement in her legs and eyes. Kaitlin will go through a program of Physio and exercises. It has taken around three and a half years for her to learn how to walk again following one operation.
Helena Biggs is Kaitlin's TA support worker in school and says that Kaitlin is a very determined young woman who always tries to integrate with the other students.  Although she has autism, she works really hard no matter what the obstacle and she will give anything a go. She finds a way to achieve things, cooking for example.  It is a major achievement for Kaitlin to cook, particularly as her eyesight is very poor.  Kaitlin is very popular with other students too.
Kaitlin likes to be involved in sports day, as she loves sport. Kaitlin is also part of the student council. She likes to help improve things in school, getting her views heard and being a voice for other disabled students too. She is a peer mentor for other disabled students and she is an inspiration to them, giving them moral support, helping them with school life and other issues.
Paul said: "Kaitlin says she has bad days, but she likes to try to be positive about life and not let her condition deter her from having the best in life. She tries to adapt to situations and have a go and enjoying life to the full."
Councillor Tracey Taylor, Vice-Chairman of the Children and Young People's Committee at Nottinghamshire County Council said: "Kaitlin is very inspirational, having contended with so much in her life already, and it is great news that she has been named as the Broxtowe district winner for the 4Uth awards."
---