Activity providers
If you are an activity provider and are interested in providing activities for the Nottinghamshire Holiday Activities and Food programme, you will need to complete an online application. 
All providers must read the guidance notes on the application portal alongside the Grant Conditions before completing the application, taking note of the assessment framework (which all applications are measured against).
Before starting the application form you will be asked to create an online account with us, or to log in to your account if you already have one. 
Applications are now closed for 2023.
Small Grants may be available for Winter delivery following reconciliation of Summer and Autumn programmes.
HAF application support 
If you are a current provider returning data, watch this how to video.
Who is this programme for?
Children aged 5-16 years (including 4-year-olds if in Reception) who are eligible for and receiving benefit related free school meals.
The Department for Education has also granted funds to be used to reach children, young people and families who are considered vulnerable. 15% of providers funding can be used towards offering free or subsidised holiday club places for children who are not in receipt of benefits-related free school meals.
The criteria includes:
children assessed by the local authority as being in need, at risk or vulnerable (for example, children on a Child Protection Plan, Children in Need or on an Early Help plan)
young carers
looked-after children or previously looked after children
children with an Education, Health and Care (EHC) plan
children who have low attendance rates at school or who are at risk of exclusion
children living in areas of high deprivation or from low-income households who are not in receipt of free school meals
children in transition phases between nursery and primary school or primary and secondary school
 Access to the 15% would be discussed on a one-to-one basis.
What can we deliver as providers?
The programme offer is wide and varied. Current activities include:
Multi sports
Dance
Drama
Craft sessions
Virtual reality
Activity days
High ropes
Forest school
Cooking with children and families
Food support for providers
In line with the HAF minimum standards, we encourage activity providers to research healthy options for food. Activity providers that cannot prepare food on site, are encouraged to use Healthy Options Takeaways (HOT) food providers. The HOT merit scheme is run by Nottinghamshire County Council and our District and Borough Council partners. Together we're aiming to increase the amount and variety of healthier options in takeaways across Nottinghamshire. Research HOT food providers around the county. 
Which providers can deliver the programme?
A range of providers can deliver as long as they meet the minimum standards for delivery and pass the expression of interest process. Providers that currently deliver are:
Youth services
SEND providers
Schools
Uniformed services (Scouts, Brownies etc)
Sports providers
Forest schools
Sports clubs
Food providers
Alternative education providers
Faith groups
The Holiday Activities and Food standards background information.
Please contact our team for additional information required: haf@nottscc.gov.uk.
How much demand is there?
Select the below heat map and zoom in to see free school meals take up across the county.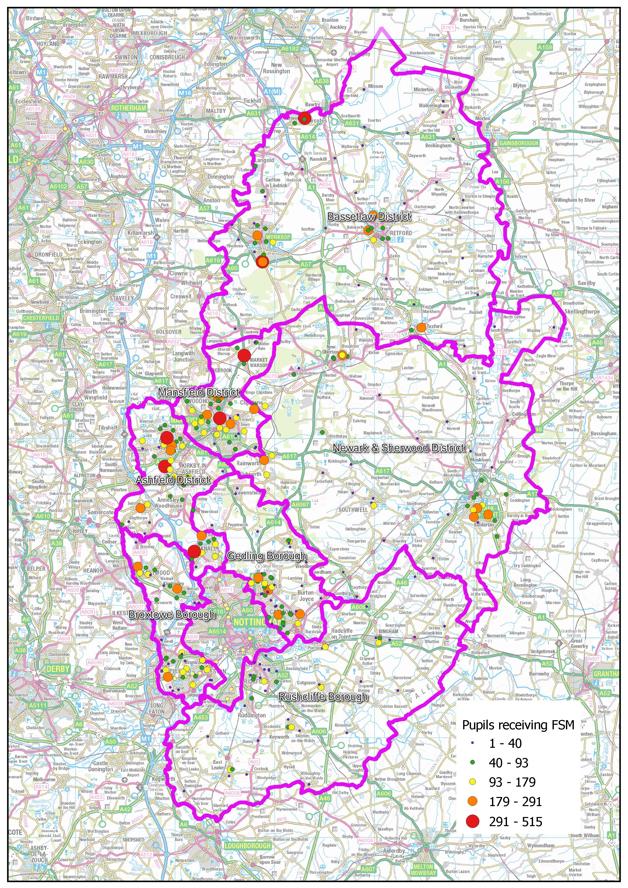 What venues were used in 2022?
The PDF below illustrates where HAF delivery took place in 2022. If you would like to deliver a programme, please contact the HAF team to discuss your venue.