National land art competition
The idea of land art is to turn fields, hills, gardens or any open spaces into unusual art displays. It doesn't have to be too complicated, ambitious or even cycling related, it can as simple as using items to spell out 'Welcome to Notts'. Other ideas for land art include:
Mowing a giant shape/image into a hill or field 
Painting old, unwanted bikes yellow and putting them out on display
Creating giant posters or banners on buildings along the route  
Colourful flower displays in the shape of a bicycle in gardens 
Remember the art needs to be big enough to be seen from the air and if you are planning on creating something, please seek permission from the land owner of course.
Race Director Mick Bennett said: "Last year's Nottinghamshire stage in particular saw several fantastic examples of land art created by community groups and this has inspired us to encourage people across the route this year to show their support and get creative.
The baaaa has already been set by our very own local farmer Des Allen, whose sheep-based land art went viral on social media during the 2017 race.
Des said: "We were staggered by the response that our small efforts received last year. We did it as a bit of fun and the response was fantastic.  I would urge people to have a go; from a little bit of effort it is sometimes amazing the response you receive."
Get Social
Don't forget to share photos of your creative displays on Facebook, Twitter and Instagram with #NottsToB
Gallery
Take a look through our gallery and video's for inspiration. 
  The Tour's video of national land art pieces from last year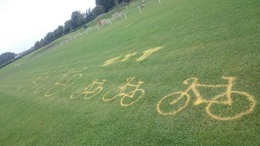 Created by Newark Air Museum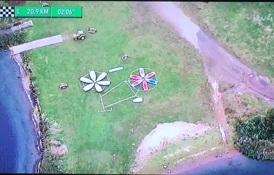 Created by Girton Boating Club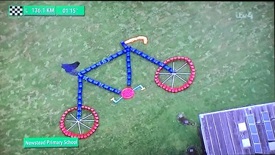 Created by Newstead Primary School
Helen Woodward, Head Teacher, at Newstead Primary school: "We certainly enjoyed the day, what a unique way to begin our new academic year! We were glad of the TV helicopter coverage of our bike and that it was worth the planning and effort.