Competition winners 2023
We're excited to reveal the official Tour Of Britain Stage 4 starting flag, winner's trophy, jersey and short stories!
The flag, trophy and jersey competition entries were shortlisted by Councillor John Cottee and the shortlist was voted on by the public. These competitions have been sponsored by Arc Partnership and Scape.
The short stories were shortlisted by Inspire, and Councillor John Cottee chose the winners. You can read the winning stories below.
The winning designs are being turned into the real thing ahead of the Tour of Britain coming to Nottinghamshire on Wednesday 6 September.
Starting flag
The starting flag was designed by Matilda Hall, aged 8, from
West Bridgford.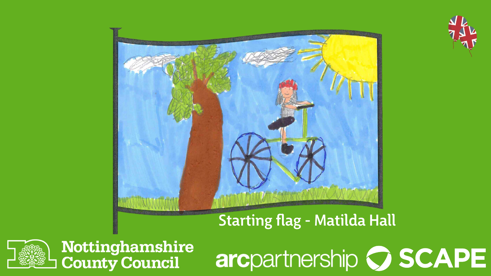 Winner's trophy
The trophy was designed by Mia Humberstone, aged 8, from Ravenshead.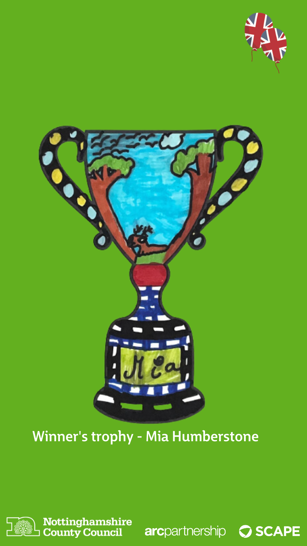 Winner's jersey
The winner's jersey was designed by Evan Foulger, aged 10, from Sutton Bonington.
Short stories
The short stories were judged in two age categories:
4 - 7-years-old
8 - 11- years-old 
The winners are Harry Ronksley, aged 7, and Adam Naoui, aged 9. 
Once upon a time there was a boy called Max and Max was in a book writing competition. He was thinking of a story to write. So he set off on his bike to explore the world to get the most exciting ideas he could.
First he ended up in a beautiful, flowery meadow. It had twenty five sheep in it, Max asked the sheep for some ideas, they didn't have any ideas but one of them noticed Max was shivering and so he gave him a wooly cycling jumper. The sheep asked if he could come on the adventure with Max and so it climbed on the back of Max's bike.
Max and the sheep carried on cycling until they got to a tropical rainforest. They saw 3 toucans. The toucans didn't have any ideas for Max's story either but they gave him some feathers to patch up his bike seat and make it more comfortable. They asked if they could fly along with Max and the sheep.
Next they cycled to a mansion with horses in the garden. Max asked the horses for any ideas for his book, they did not have any ideas but they gave Max a horseshoe to wish him luck on his adventure. They asked if they could come along too. Max carried on cycling along and 'bang!' he fell into a hole. Max, the sheep, the toucans, the horses and his bike all fell down and down until they reached an underground house belonging to a book worm. The book worm was oblivious to them with his head in his book but Max noticed there was a map book with directions to the wise owls tree. Max excitedly said to his new friends "this is what we need, some wise brains!". So he got back on his bike and cycled through the enchanted forest to get to the wise owls. There were 5 owls in the tree. Max asked the owls for an idea for his book. The wisest owl said "why don't you write a book about the adventure you have been on" so Max and his new friends set off home to write the story. The end
"Go, go, go". Robin could hear his community cheering him on. He was a young man from Nottingham, he grew up here, he was racing here, the encouragement from the crowd brought back memories of himself as a young boy riding among the roots of Sherwood Forest.
He would usually go for a day out cycling with his grandad, they would smile and cheer as they whizzed down the course. Robin could remember the first time he ever cycled there, he had only just turned 8 and as a birthday treat his grandad decided to take him on what would become a journey of a lifetime.
He was raring to go, Robin grabbed his shiny new bike out of the car. When they arrived at the start he went for it, he flew with the wind, his grandad struggling to catch-up with him. It felt wonderful, everything, the smell, the passing breeze, the sound of the birds singing and most of all, the feeling. As he travelled deeper and deeper into the forest Robin could feel himself becoming slower, he was gradually getting tired. As he grounded to a halt he saw something that took the remains of his breath away. He saw the Major Oak, it was captivating, enchanting and magnificent. It was the middle of spring so all the leaves were blossoming, it was an inspiring sight. Robin stood there in amazement when his grandad finally caught up he saw what Robin had seen. It was a special moment to share and also, this was the moment Robin fell in love with cycling because of the places it could take him and because it made him feel alive.
As he grew up cycling taught him that perseverance and overcoming adversity is the key to success, and this is the same in any sport, competition or challenge, no matter how big or small. It hadn't been an easy journey, with lots of bumps (and the occasional fall!) along the way.
It was because of this he was where he was now, as an adult on the starting line back at Sherwood Forest on Stage 4 of the Tour of Britain. He realised how far he had come and what was ahead of him, it was a challenging 105miles to the finish line in Newark. He could feel the tension in the air as his competitors lined up alongside him. As the whistle blew he stayed calm, focused and became energised by the crowd. He didn't care too much about winning, all that matter was that he enjoyed the moment, because he was here, he was home, back to his roots.