The Victoria Cross
Armed Forces in Nottinghamshire have a long and prestigious heritage if bravery and valour during combat.
Below is a list of local recipients of the honour.
Captain William Raynor V.C.
Baptised 10 August 1796, Plumtree
Served in the Bengal Veteran Establishment
Rifleman Francis Wheatley V.C.
Baptised 10 August 1821, Ruddington
Served in the 1st Battalion The Rifle Brigade (Prince Consort's Own)
201 Samuel Morley V.C.
Born December 1829
Served in the 2nd Battalion Train
Private Robert Humpston V.C.
Born 1832, Derby
Served in the 2ND Battalion The Rifle Brigade
Sergeant Anthony Clarke Booth V.C.
Born 21 April 1846, Nottingham
Served in the Regiment of Foot (Staffordshire Volunteers)
Quartermaster Sergeant William Thomas Marshall V.C.
Born 5 December 1854, Newark
Served in the 19TH Hussars (Prince of Wales Own)
Corporal Harry Churchill Beet V.C
Born 1 April 1873, Bingham
Served in the 1ST Battalion Derbyshire Regiment
Sapper William Hackett V.C.
Born 11 June, 1873, Nottingham.
Served in the 254th Tunnelling Company Royal Engineers.
Lance Corporal Walter Richard Parker V.C. 
Born 20th September 1881, Grantham, Lincolnshire
Served in the Royal Marine Light Infantry
Corporal Charles Ernest Garforth V.C. 
Born 23rd October 1891
Served in the 15TH Hussars
Sergeant James Robert Bye V.C.
Born 12th December 1889 Pontypridd, Wales
Served in the 1ST Battalion Welsh Guards
306122 Sergeant William Henry Johnson V.C.
Born 15 October 1890, Worksop, Nottinghamshire.
Served in 1/5th Battalion
Sherwood Foresters.
Private John Joseph Caffery V.C.
Born 23 October 1891, Birr Kings County, Offaly, Ireland
Served in the 2ND Battalion York and Lancaster Regiment
Colonel Sir Charles Geoffrey Vickers V.C
Born 13 October, 1894.
Served in the 1/7th Robin Hood Battalion, Sherwood Foresters.
Captain Albert Ball V.C.
Born 14 August 1896, Lenton, Nottingham.
Served in the 7th Robin Hood Battalion, Sherwood Foresters, commissioned in October, 1914.
Private Samuel Harvey V.C.
Born 17 September, 1891, Basford, Nottingham.
Served in the 1st Battalion
York and Lancaster Regiment.
Wilfrid Dolby Fuller V.C.
Born East Kirby, Greasley, Nottinghamshire, 28 July 1893.
Served in the 1st Battalion Grenadier Guards.
Captain Robert St. Vincent Sherbrooke V.C.
Born 8 January 1901, Oxton
Commander of HMS Onslow
Lance Corporal Harry Nicholls V.C.
Born  21 April 1915, Nottingham
Served in the 3rd Battalion Grenadier Guards
About the Victoria Cross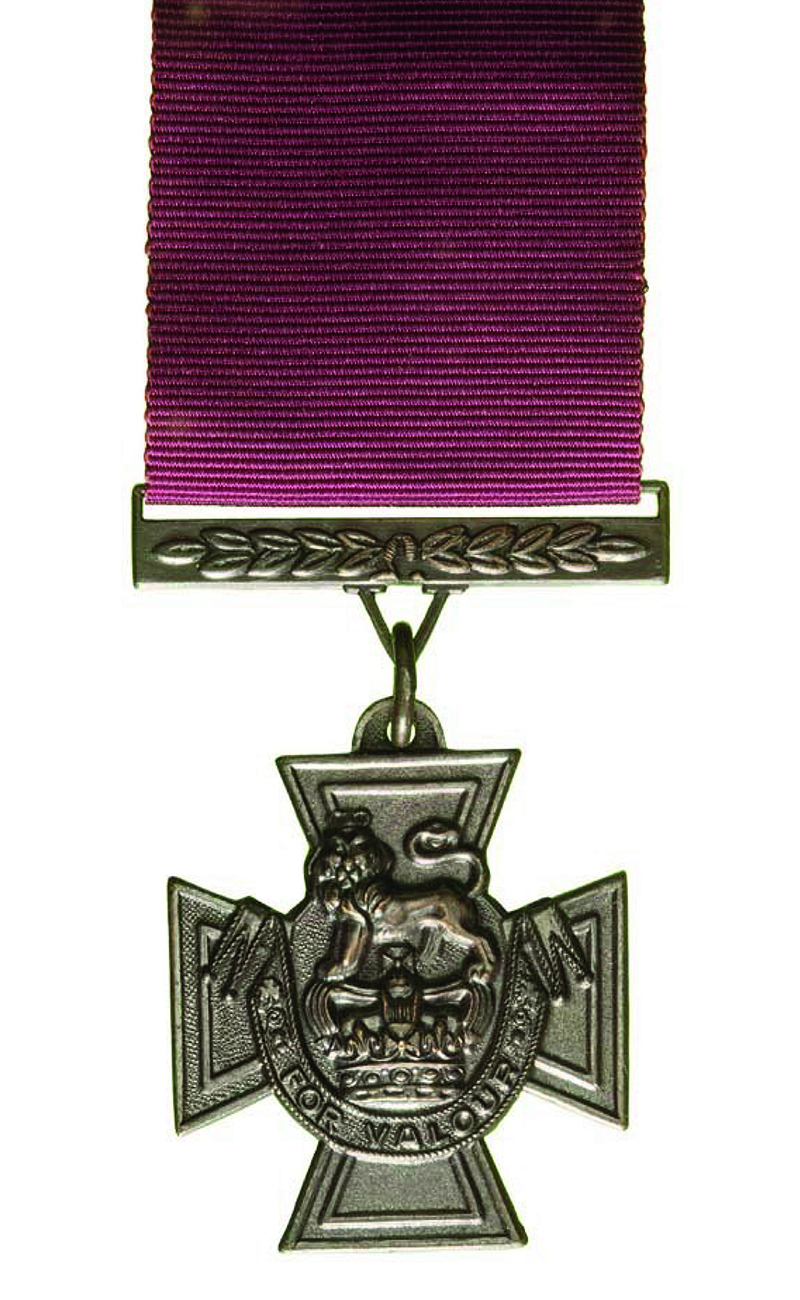 The Victoria Cross was founded by Royal Warrant on 29 January, 1856.
It was originally intended to be awarded solely to members of the Royal Navy and British Army who, serving in the presence of the enemy, should have performed some signal act of valour or devotion to their country.
An important clause laid down that "neither rank, nor long service, nor wounds, nor any other circumstances or conditions whatsoever, save the merit of conspicuous bravery" should establish a sufficient claim to the honour, thereby placing "all persons on a perfectly equal footing in relation to eligibility for the decoration".
The Victoria Cross therefore became the most democratic honour in the annals of military and naval history.
Queen Victoria chose the design for the decoration herself. It is in the form of a Maltese Cross ensigned with the Royal Crest and a scroll inscribed simply 'For Valour'.
It is connected by a V-shaped link to a bar engraved on the face with laurel leaves, with space on the reverse for the recipient's name. The date of the deed for which the honour is bestowed is engraved on the back of the Cross itself.
It is worn on the left breast suspended from a 1.5" inch wide red ribbon.
The actual Cross itself is made of bronze and was originally cast from cannons captured at Sevastopol in the Crimean War 1854-6.