Nottinghamshire community groups encouraged to apply for new Food Redistribution Scheme Grant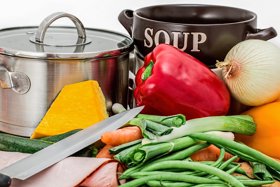 Community groups and voluntary organisations in Nottinghamshire are being encouraged to apply for a new grant to improve residents' access to affordable and healthy food.
Nottinghamshire County Council has launched the Food Redistribution Scheme Grant which will enable groups to establish schemes to help families and households access affordable good quality and nutritious food.
£210,000 has been set aside over the next three years for the funding scheme, £90,000 in year one; £65,000 in year two and £55,000 in year three. This has been made available through the county council's Local Community Fund (LCF).
Organisations, which also include local authorities such as parish, district, and borough councils, will be able to apply for a grant worth up to £10,000 in the first year from Friday 3 February. Applications close on Sunday 26 February.
Successful applicants will be able to use the funding to establish or support food redistribution schemes to meet local identified need as part of the ongoing drive to encourage healthy and sustainable communities.
The LCF was launched in the autumn of 2021 and gives community groups and organisations an opportunity to apply for grants to deliver support to boost health and wellbeing in their local area.
This new support package forms part of the county council's continued commitment to support vulnerable residents, ease the financial worries for families facing cost-of-living pressures and develop healthy and sustainable places.
The launch of the Food Redistribution Scheme Grant follows the roll-out of two LCF-funded cost-of-living grants worth £450,000 in December to enable organisations to apply for funding to support those struggling to buy nutritious food and to help groups cover the costs of their own rising energy bills.
Councillor Matt Barney, the county council's Cabinet Member for Adult Social Care and Public Health, said: "The new Food Redistribution Grant will enable more people to receive extra support and reaffirms our commitment to reduce health inequalities as residents continue to face cost-of-living pressures.
"We know that the community and voluntary sector is well placed to deliver food redistribution schemes in their local area and often provide a lifeline to some of the most vulnerable and hard-to-reach members of our community.
"Therefore, I would encourage groups and organisations to apply for this funding as soon as possible."
Councillor John Cottee, Cabinet Member for Communities, which oversees the LCF scheme, said: "Once again, I am proud that the LCF is providing support to the community and voluntary sector to enable groups and organisations to continue with their vital work to help residents live healthier and more independent lives.
"We know the Covid-19 pandemic, coupled with cost-of-living pressures, have impacted on low-income families in Nottinghamshire and the launch of the Food Redistribution Scheme Grant will mean groups will be able to work with those people who need help the most.
"We have had a fantastic response to the LCF since its launch and would encourage any organisation looking to make a difference in their communities, particularly for more vulnerable residents, to get in touch with us at the earliest opportunity."
For details of eligibility and how to apply please visit https://www.nottinghamshire.gov.uk/lcf
For more about the financial support the council is currently providing, please visit our dedicated cost of living support page which is packed with information and advice for residents and communities about how to access the help which is currently available.
ENDS