Mansfield Recycling Centre Temporarily Closed for Essential Maintenance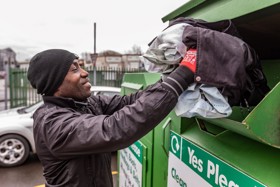 Essential maintenance will be carried out at Mansfield Recycling Centre from Thursday 19 January until Friday 27 January. The site will remain closed during this time and will reopen as usual from 8am on Saturday 28 January.
The Recycling Centre at Kestral Park on Kestral Road is operated by Veolia on behalf of Nottinghamshire County Council. The temporary closure of the site is necessary to undertake urgent drainage works.
Nottinghamshire residents wishing to dispose of household waste can still use any of the remaining 11 sites across the County whilst the Mansfield Recycling Centre is closed. The nearest alternative sites will be Bilsthorpe, Kirkby, Warsop and Hucknall Recycling Centres.
All Nottinghamshire Recycling Centres are currently open from 8am until 4pm and a full list of sites can be found on the Nottinghamshire County Council website at www.nottinghamshire.gov.uk/waste-and-recycling/recycling-centres/details
Residents must be registered to use any of the Nottinghamshire sites. To register please visit www.nottinghamshire.gov.uk/waste-and-recycling/recycling-centres/using-our-recycling-centres/register
Steve Newman, General Manager for Veolia Nottinghamshire, said: "This essential maintenance is required to ensure the site remains compliant with environmental legislation. We thank residents for their patience and understanding during this time and apologise for any inconvenience this may cause."
Councillor Neil Clarke MBE, Cabinet Member for Transport and Environment at Nottinghamshire County Council, said: "This temporary closure will allow us to carry out urgent drainage works at the site. Residents are free to use any of our other 11 sites across the County. We are sorry for any inconvenience but thank residents for their understanding."
Ends