Eighty-seven community groups in Notts set to benefit from first round of cost-of-living grants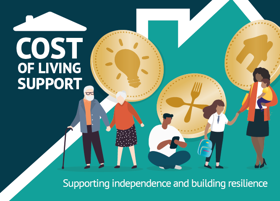 Dozens of voluntary organisations and community groups are set to receive a share of £150,000 to help residents in most need.
This is the first round of a 17-month Local Community Fund (LCF) scheme worth a total of £450,000 to specifically help those most affected by the rising living costs.
Groups were able to apply for two types of grants. The first is aimed at helping those who are struggling to buy nutritious food to help improve health and well-being in the community.

The second is a contribution towards increases in fuel and energy bills incurred by community groups.
Councillor John Cottee, Cabinet Member for Communities which oversees the LCF scheme, describes the response to the first round of these grants.
He said: "The response has been incredible. More than 100 groups applied for this funding from all over the county.
"We have allocated the money to as many eligible groups as possible. We want the funds to bring health and well-being benefits to those Nottinghamshire communities most in need.
"This includes funding for projects which have demonstrated an inbuilt sustainability beyond the lifetime of the grant and can also help reduce demand on health and social care services.
"We are proud that LCF is once again supporting groups, charities, and organisations so they are able to continue their essential work in community and are able to access the help they need to be able pay their own energy bills."
The next round of funding is due open later this spring when groups can once again apply for up to £5,000 for both type of funds.
Councillor Matt Barney, Cabinet Member for Adult Social Care and Public Health, describes how this funding is part of the council's wider support to help those most affected by rising living costs.

He said: "Vulnerable residents and those on a low income are at the heart of our overall plans which include this targeted community funding. We want to do what we can to improve the health and wellbeing of our residents as they continue to face cost-of-living pressures."

Some of the 87 community groups and organisations who are set to be allocated cost-of-living funding are:
The Acacia Centre, Annesley Woodhouse, Ashfield - £3,035 – the centre provides hot meals at reduced costs, signposting advice for people struggling to make ends meet – as well as a food bank for those in need. It is open seven days a week for everyone, providing a safe, warm space for those who are struggling with increased heating costs. The funding will be used to ensure the centre can maintain its current opening hours and contribute towards food and energy costs.
Bothamsall Village Hall Management Committee, Bassetlaw – £3,390 – the facility provides a safe and warm environment for people, as well as space for residents to meet other local people and form support networks. It also provides affordable, nutritious food in addition to improving people's cooking skills and nutritional knowledge. The funding will be used to make sure the hall can maintain its opening hours and contribute towards energy costs.
Broxtowe Women's Project (BWP), Eastwood, Broxtowe - £2,140 – the project enables vulnerable women who have survived domestic violence and families to access food and other essential support in a warm environment. The funding will be towards food and installation of a radiator to heat and create a safe space.
St Wilfrid's Church, Calverton, Gedling - £2,140 – the project provides food parcels in the community to those identified as being in need via schools. The funding will go towards food and energy costs.
Ladybrook Enterprises Ltd, Mansfield - £2,700 – this well-used community hub provides a range of support, including a food bank and a warm safe environment for those most in need. Rising fuel costs have resulted in reducing the service they provide. The funding will be put towards the purchase of food and energy costs.
The Social Action Hub, Rainworth, Newark and Sherwood - £3,570 – the social action hub provides support to the community which includes distributing food parcels and providing a social supermarket and a youth community fridge. Plans are in place to extend this support on additional days and evenings due to a recent increase in footfall. The money will cover food and energy costs.
Sutton Bonington Village Hall, Rushcliffe - £1,785 – the village hall provides a venue for community organisations, including Inspire library services, to deliver services in the local community. The funding will be used to ensure the centre can maintain its current opening hours and contribute towards food and energy costs.
For further financial support and advice, check the council's dedicated cost of living support page.

ENDS


NOTES TO EDITORS
This decision will need to be published for five clear working days before it can be implemented. During these five days the decision can be "called in" to be scrutinised by the Overview Committee and can then not be implemented until that process ends.