A-May-zing family friendly activities for half term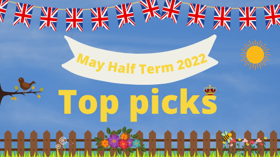 Nottinghamshire County Council is sharing a range of top picks for the May half term, which runs from 30 May to 3 June.
From exploring Nottinghamshire's glorious green spaces, to getting adventurous at the Notts Outdoors holiday club, and the platinum jubilee celebrations, there is plenty happening across the week to keep everyone entertained.
Councillor John Cottee, Cabinet Member for Communities at Nottinghamshire County Council, said "It's great that once again we have a variety of fun activities to make sure everyone has an exciting half term.
"Celebrate the platinum jubilee with plenty of family friendly activities to take part in, including a trail at Rufford Park to help find 'Mrs Queen' and the Big Jubilee Lunch at Southwell Minster.
"If you take any photos while you're out and about make sure to share them with us, using the tag #ExploreNotts "
Top featured half term events include:
Rufford Abbey Country Park - Where is Mrs Queen?
Date: 28 May to 31 August
Price: £2.50 per trail sheet
Your help is needed to find Mrs Queen before her Platinum Jubilee celebrations start!
She is missing in action, where can she be? Has she taken the corgis for a walk? Has she nipped to the Tower of London to admire the crown jewels? Has she gate-crashed another tea party?
You can help to find her!
For more information Events - Rufford Abbey (parkwoodoutdoors.co.uk)
Big Picnic at Sherwood
4 - 5 June
Sherwood Forest
Free (£10 refundable deposit hire)
As part of the Platinum Jubilee celebrations and the Bank Holiday Weekend, families can get involved in having a Big Picnic at Sherwood Forest.
 Find out more Big Picnic at Sherwood – Sherwood Forest (visitsherwood.co.uk)
Notts outdoor holiday club
30 May – 1 June
£78 for all three days
Suitable for school years 3 to 8
Your adventurer will get to enjoy at least three fun activities each day, ranging from climbing, canoeing, zip wire and many more. Build confidence, make friends and enjoy the outdoors this half term.
Find out more Holiday clubs | Notts Outdoors (nottinghamshire.gov.uk)
Families can find full details of these activities and other events taking place across Nottinghamshire during half term on our 'Top Picks For Half Term' page Top picks! | Nottinghamshire County Council
ENDS