Training opportunities for 16- to 19-year-olds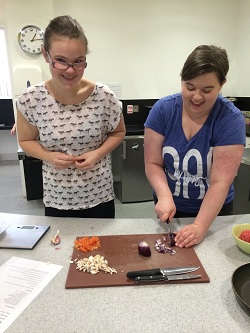 Our Inspire Learning team provide training opportunities for 16- to 19-year-olds (plus students up to the age of 24 with a learning difficulty) across Nottinghamshire.
Our training programmes offer individual training and support, resulting in nationally recognised qualifications that will help students progress onto further training opportunities and employment.
We provide quality facilities with professionally qualified staff that care about young people and their future.
Watch Jake's video and read his story to find out about the difference that Inspire Learning training has made to one Nottinghamshire student. 
Study Programmes and Traineeships courses
Our Study Programmes and Traineeships courses include:
Personalised study programme
A typical week of training on the study programme will include:
vocational training
functional skills
work experience
information technology
personal development
employability skills
citizenship
examining self image
building confidence
communication skills
identifying realistic opportunities
interview techniques
job search
support in finding employment or further training.
Gaining your qualification
To gain your qualification you will need to show that you can perform tasks in the workplace or at the training centre. You'll also build a portfolio including written work and evidence relating to practical tasks.
You can work at your own pace collecting units towards your qualification. When you have completed all the units you will receive your qualification certificate. Your tutor will support you throughout your learning and help you with any learning difficulties or disabilities you may have.
Traineeships
In addition to the study programme, we also offer traineeships for up to six months which include:
a work placement offering developmental work experience
work training skills, for example CV writing, interview preparation and interpersonal skills
qualification in maths and English
a range of support and flexible training to help develop skills and progress quickly on to an apprenticeship or secure employment.
Apprenticeships
Inspire Learning Nottinghamshire offer a growing range of apprenticeships, please contact them for more information on 01623 677 200 or email learning@inspireculture.org.uk
Post-16 Bursary
We pay a bursary to all students of up to £100 per month. These payments are weighted towards those who face the most challenging financial barriers to taking part in education. All travel cost is refunded and Child Benefit is not affected. 
Where you can find us
Eastbourne House (Sutton in Ashfield), MyPlace at the Westfield Folkhouse (Mansfield), Hucknall Young People's Centre, Eastwood Young People's Centre, Arnold Redhill Young People's Centre, Stapleford Young People's Centre, Worksop Library (currently based at The Crossing), Retford Young People's Centre and Newark Library. 
Download our brochure
Download our Inspire Learning 16-24 Study Programme
Apply now
To find out more about what courses we have that may suit you, contact us on 0115 804 3611 or email learning@inspireculture.org.uk with your name, telephone number, which type of courses you are interested in and which area you live in.