Easter egg fruit snacks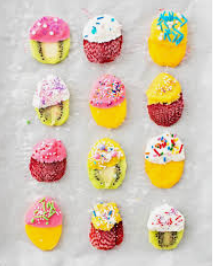 Ingredients
1 kiwi
1 mango
2 strawberries
Various sprinkles
A selection of fruit yogurts
 Method
Slice your fruit into an oval egg shape. Use kitchen scissors or a sharp knife to trim into an egg shape (be careful if there are young children about).
Line the fruit on a lined baking try and freeze until hard (about an hour).
Remove your frozen fruit from the freezer and dip into the fruit yogurt. Use the sprinkles to decorate.
Refrigerate, or keep in the freezer.