Covid-19 guidance for schools
Last updated 30 November 2021 

Changes to schools Covid-19 guidance in response to Omicron variant
Face coverings
Face coverings are now recommended in schools as follows:
For all staff and adult visitors in all schools, when moving around the building or when in communal areas
For pupils in secondary schools (Year 7 and above) when moving around the building or when in communal areas. This guidance is expected to remain in place for three weeks, up to the end of term. Pupils in secondary schools should use face coverings when travelling to school on school transport or public transport.
Asymptomatic testing
Testing remains important in reducing the risk of transmission of infection within schools. Therefore, staff and secondary school pupils should continue to test twice weekly at home using free rapid lateral flow tests, 3-4 days apart. This testing remains voluntary but is strongly encouraged. There is no need for primary age pupils (those in year six and below) to test.
Updated self-isolation guidance
The Government has introduced changes to isolation requirements for contacts of confirmed and suspected cases of the Omicron variant. For further information on Covid-19 symptoms and self-isolating, please click on the drop-down boxes below. 
All people who test positive for Covid-19 should continue to self-isolate as before. Staff and pupils with a positive LFD test result should self-isolate in line with the stay at home guidance for households with possible or confirmed coronavirus infection. They will also need to get a free PCR test to check if they have Covid-19.


Whilst awaiting the PCR result, the individual should continue to self-isolate. If the PCR test is taken within 2 days of the positive lateral flow test, and is negative, it overrides the self-test LFD test and the pupil can return to school, as long as the individual doesn't have Covid-19 symptoms.


For those identified as close contacts, if the Omicron variant of Covid-19 is suspected or confirmed, there will be no exemptions to self-isolation requirements (whether due to age or to vaccination status). All individuals who have been identified as a close contact of a suspected or confirmed case of the Omicron variant of Covid-19, will be contacted directly and required to self-isolate immediately. They will be asked to book a PCR test. People will be informed by the local health protection team or NHS Test and Trace if they fall into this category and will be given further information about self-isolation.


Individuals identified as close contacts of someone with Covid-19 who is not a suspected or confirmed case of the Omicron variant will not be required to self-isolate if they are either:
- fully vaccinated
- aged under 18 years and 6 months
- part of an approved Covid-19 vaccine trial, or
- unable to be vaccinated for medical reasons.
If you are a parent or carer, this flowchart gives guidance about whether your child should attend school.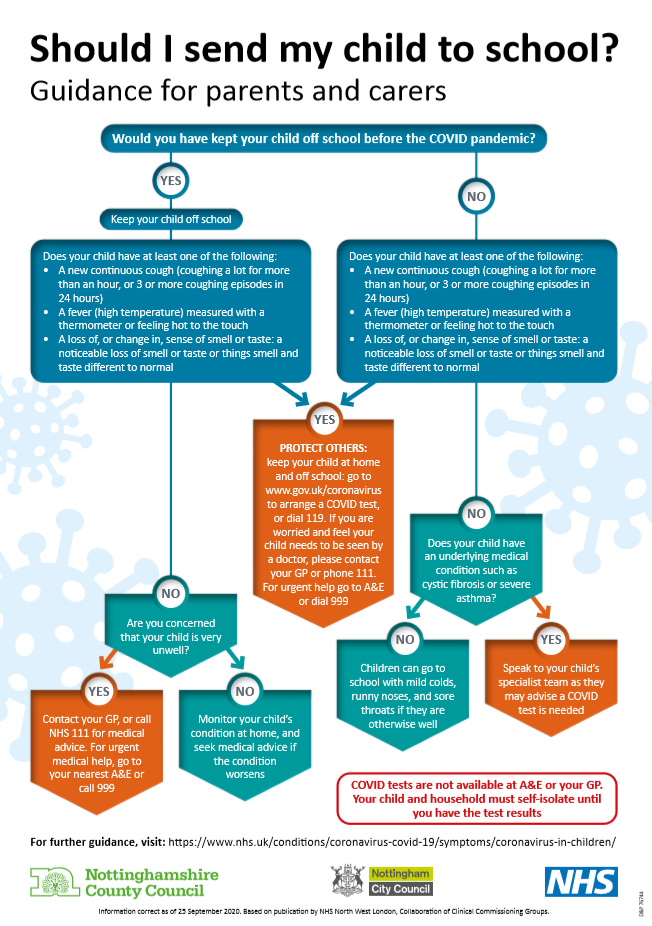 If your child develops Covid-19 symptoms, keep them home from school and get a test. Let your school know the test results as soon as you get them.
Your school will let you know if there is a confirmed case of Covid-19 and your child needs to be isolated.