Covid-19 guidance for schools
Last updated 28 October 2021 16:42

Vaccinations for children aged 12-15
Vaccinations are underway in schools for healthy children aged 12-15. Schools will be in touch with parents directly to let them know when the vaccinations will happen at their school and many clinics have already gone ahead.
Any child who is not able to have their vaccine in a school-based clinic, or has missed a clinic, will be able to book an appointment at certain sites.
These include Forest Recreation Ground, Mansfield Vaccination Centre and King's Mill Hospital Hub. Appointments can be booked on the NHS website. Young people need to be accompanied by a parent / carer / guardian when they attend their appointment.
Testing
Testing remains important in reducing the risk of transmission of infection within schools. Therefore, staff and secondary school pupils should continue to test twice weekly at home using free rapid lateral flow tests. This testing remains voluntary but is strongly encouraged. There is no need for primary age pupils (those in year six and below) to test.
Covid-19 symptoms and self-isolating
For information on Covid-19 symptoms and self-isolating, please click on the drop-down box below. 
If you are a parent or carer, this flowchart gives guidance about whether your child should attend school.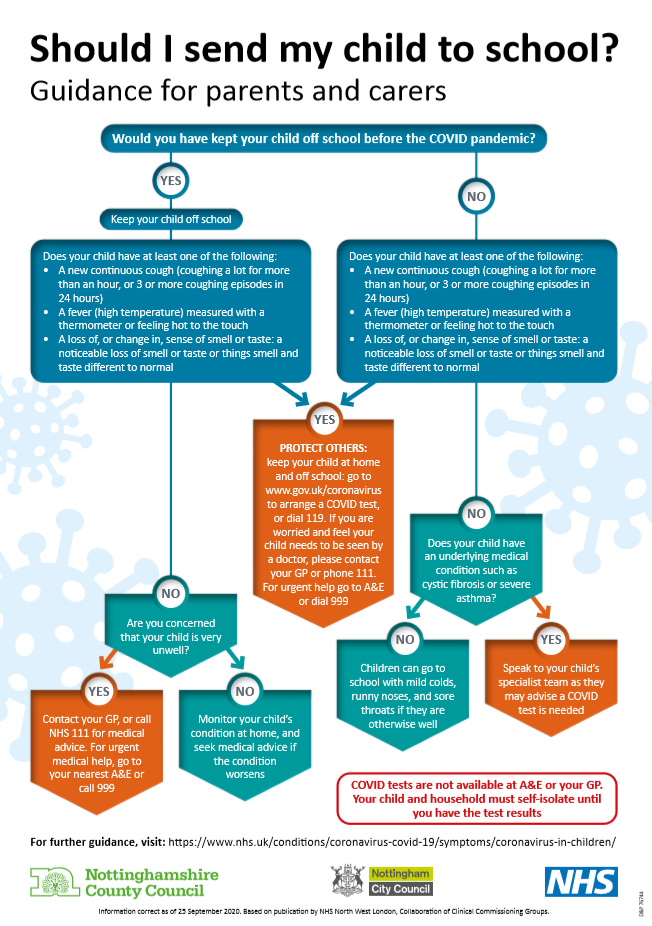 If your child develops Covid-19 symptoms, keep them home from school and get a test. Let your school know the test results as soon as you get them.
Your school will let you know if there is a confirmed case of Covid-19 and your child needs to be isolated. 
If you have children at different schools and one of your children is in a group that has been sent home to isolate, there is no need for any other household members to stay at home unless the child develops symptoms.