Back to school
Last updated 12 May 2021 12:02

Changes from Monday 17 May
From 17 May, there are changes to the guidance for the use of face coverings in all schools:
for pupils and students in all schools, face coverings do not need to be worn in classrooms or communal areas.
for staff in all schools, face coverings do not need to be worn in classrooms.
for staff and visitors in all schools, it is still recommended that face coverings should be worn outside of classrooms where social distancing is not possible (for example, when moving around in corridors and communal areas).
The updated guidance includes the possibility of face coverings being reintroduced for temporary periods in response to any local outbreaks.
---
Schools reopened in March with COVID-19 testing in place
All schools in England - primary and secondary schools, as well as colleges - reopened in March as part of the government's four-part plan to lift the coronavirus lockdown.
All pupils and students began returning to return to face-to-face education with the following testing measures in place:
Primary school staff continuing to take two rapid COVID-19 tests each week at home.
All secondary school and college students began taking three COVID-19 tests as they returned to the classroom in March at existing school testing facilities. Schools and colleges had discretion on how to test students over the first week, to enable their return to the classroom. After the initial programme of three tests in school or college, students were be provided with two rapid tests to use each week at home.
Secondary school and college staff were also provided with two tests to use each week at home.
More general information and advice on Coronavirus (COVID-19)
All households with primary and secondary school and college age children, and childcare and support bubbles, are being encouraged to carry out regular twice-weekly testing now that schools have returned.
Tests for adults in these households to collect have been available from 1 March. As with student testing, this is encouraged but not mandatory. A secondary PCR test is required for positive lateral flow tests which are taken at home, either through at home PCR testing or at a local PCR testing site.
Getting a rapid test is quick and convenient. The expanded regular testing offer for people without symptoms is being delivered through:
testing in-person via workplace testing
local authority test sites
collection at a local PCR test site during specific test collection time windows
a home ordering service, which launched on 1 March, allowing people to order lateral flow tests online to be delivered to their home
More information and how to get a rapid lateral flow test
For families who wish to order the home testing kits they can be ordered from www.gov.uk/order-coronavirus-rapid-lateral-flow-tests
Everybody wants their children to be safe, and the evidence has shown that the risk of severe disease in children is low.
Schools have worked hard with Health and Safety and Public Health experts to put in place safety measures to reduce the risk of COVID-19. Schools have put sensible precautions in place to reduce potential transmission and minimise any risk to teachers, staff, pupils and visitors.
Schools have plans in place to offer education to pupils remotely if necessary, if they need to self-isolate.
Staff and students have been tested ahead of their return to secondary schools and colleges, alongside strengthened safety measures. These will be in place as well as the existing bubble system, enhanced hygiene and COVID-secure precautions.
Testing in education settings is already well-established, with recent figures showing four million tests have been carried out across schools, colleges and universities.
What if I have concerns?
Speak to your school about your concerns and the plans that the school has in place.
All schools must comply with essential measures, which include:
a requirement that children and adults who are ill with coronavirus symptoms stay at home. Remember, You must not send any of your children to school if there is someone in your household with symptoms or a positive test result.
effective hand and respiratory hygiene
enhanced cleaning arrangements
active engagement with NHS Test and Trace
measures to reduce contact and maximise social distancing between those in school wherever possible, minimising potential for contamination.
The exact measures will vary from school to school, and will to some extent depend on the layout of buildings. Many parents will be familiar with these from when schools reopened in the summer. Measures include:
grouping children together
avoiding contact between groups
arranging classrooms with forward facing desks
staff maintaining distance from pupils and other staff as much as possible.
Staff and students will be tested ahead of their return to secondary schools and colleges on 8 March, alongside strengthened safety measures. These will be in place as well as the existing bubble system, enhanced hygiene and COVID-secure precautions.
Face coverings in school
Children in Year 7 or above must wear face coverings while in school corridors, unless they are exempt, until Monday 17 May (see below). This includes all dining areas. Face coverings can be removed when eating and drinking, but must be put back on afterwards.
It is recommended that staff and visitors to all schools wear face coverings where social distancing cannot be maintained between adults (

for example, when moving around in corridors and communal areas).

Children in primary schools are not required to wear face coverings.
Changes from Monday 17 May
From Monday 17 May, for pupils and students in all schools, face coverings do not need to be worn in classrooms or communal areas.
From Monday 17 May, for staff in all schools, face coverings do not need to be worn in classrooms, but should still be worn outside of classrooms where social distancing is not possible (for example, when moving around in corridors and communal areas).
Social distancing at the school gates
Remember that social distancing applies when taking or collecting children from school. Please keep your distance (at least two metres away) from other people who are outside your household.
The NHS Test and Trace system is up and running, and measures have been put in place to create safer environments within schools.
Returning to school is important for children's education and their well-being. Being out of school for significant periods can have a significant negative impact on their learning and academic development. Lower academic achievement affects the standard of living that today's pupils will have over the course of their life. Therefore it is important to ensure that all pupils return to school sooner rather than later.
The risk to children themselves of becoming severely ill from coronavirus (COVID-19) is very low.
In relation to working in schools, whilst it is not possible to ensure a totally risk-free environment, the Office of National Statistics' analysis on coronavirus (COVID-19) related deaths linked to occupations suggests that staff in educational settings tend not to be at any greater risk from the disease than many other occupations. There is no evidence that children transmit the disease any more than adults.
Given this position, the balance of risk is now in favour of children returning to school. For the vast majority of children, the benefits of being back in school far outweigh the very low risk from coronavirus (COVID-19).
The decision about whether to issue fines for non-attendance is a matter for each school, not the County Council. Parents can be assured that all appropriate measures will be in place, and that we will be helping those families who need additional support.
We know from growing evidence that many children identified at the start of the pandemic as clinically extremely vulnerable (CEV) are not at increased risk of serious outcomes from coronavirus (COVID-19) and children are gradually being removed from the shielding patient list (SPL) as appropriate, following review with a clinician.
The advice for pupils who have been confirmed as clinically extremely vulnerable is to shield and stay at home as much as possible until further notice. They are advised not to attend school while shielding advice applies nationally.
All 16 to 18 year olds with underlying health conditions which put them at higher risk of serious disease and mortality will be offered a vaccine in priority group 6 of the vaccination programme. At present, these children should continue to shield, and self-isolate if they have symptoms or are identified as a close contact of a positive case, even if they have been vaccinated.
If you are a parent or carer, this flowchart gives guidance about whether your child should attend school.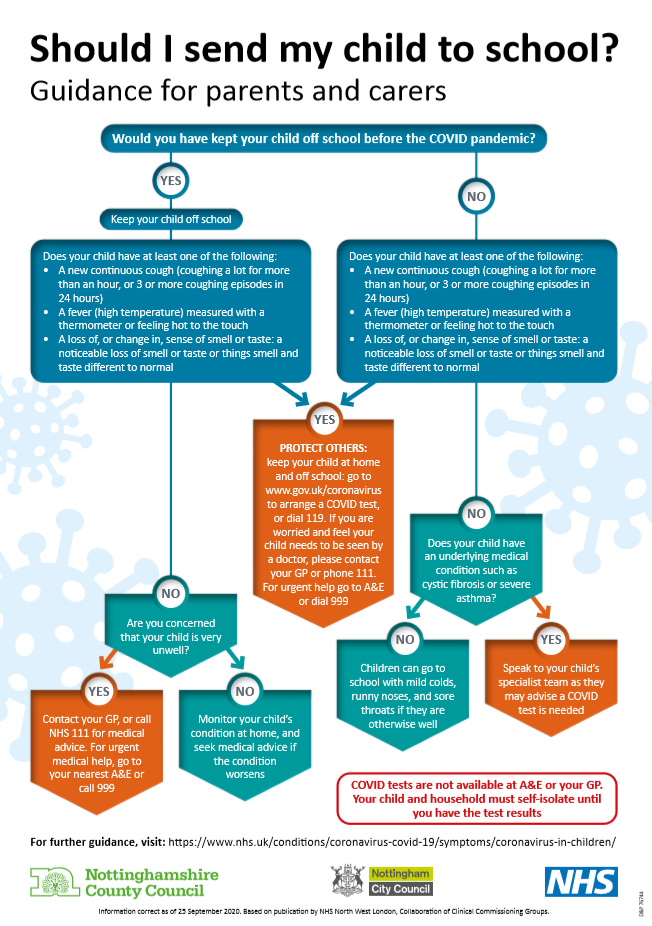 If your child develops COVID-19 symptoms, keep them home from school and get a test. Let your school know the test results as soon as you get them.
Everyone in your household should stay at home while a person with symptoms is tested, and afterwards, in line with NHS self-isolation guidance, if the test result is positive.
Your school will let you know if there is a confirmed case of COVID-19 and your child needs to be isolated. Schools will provide home learning for children who are in a bubble that needs to stay at home. 
If you have children at different schools or in different bubbles, and one of your children is in a group which has been sent home to isolate, there is no need for any other household members to stay at home, unless the child develops symptoms.
School and college kitchens will be open during term time. They will provide free school meals and universal infant free school meals as usual for those who are eligible.
We've needed to adapt our menu as some of our normal supply chains have been disrupted. We haven't compromised on nutrition or taste, and we are continuing to use fresh ingredients.
We have an interim menu for primary school meals and a similar interim menu for secondary school meals will be available shortly. For more details, please check with your school.
For more information about school meals please use the link below:
We are working hard to ensure that we have sufficient capacity. We have contracted extra coaches to provide dedicated school transport services. There will, however, be challenges while social distancing measures are in place.
Wherever possible, and especially for journeys to school of two miles or less, we would strongly suggest that children and young people get to school 

by walking or cycling.

Pupils that do arrive by car should, where possible, complete the last part of the journey on foot - 'park and stride' - to avoid congestion and to allow safe access to schools.

The County Council has issued guidance to operators to make bus travel as safe as possible, in line with government recommendations.
Some schools may be staggering school start and finish times to reduce pressure on transport services. Please check with your school to see what arrangements they have in place.
More information about school transport
General transport guidance and advice
Walk cycle or scoot where you can.
If you are travelling by public transport, allow more time. You must wear a face covering if you are aged over 11, unless you are exempt.
Keeping safe at the school gates
Many schools will have staggered start and finish times to avoid crowding at the beginning and end of the day, but please  keep your distance at the school gates.
Please remind your children to keep at least two metres apart from people not in their household, and remember to do the same. They may be excited to see familiar faces and catch up with their friends, but by keeping at least two metres apart we can help stop the spread of the virus.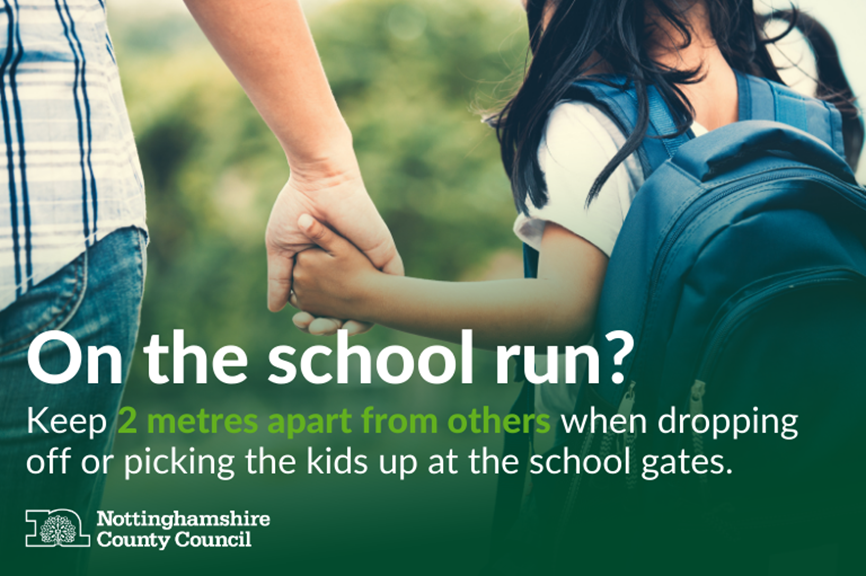 Car sharing
If you are sharing a car, open the windows, wear a face covering unless you are exempt, and leave some seats free to social distance.
Share your car with the same people each time.
Travel in the smallest groups.
Keep as far apart as you can.
Clean your car between journeys, especially touch points.
Temporary arrangements for SEND school and college transport, with new procedures, are in place.