Best Dressed Competition
We received lots of fantastic entries for our Best Dressed competition with dozens of local communities embracing the international sporting event by transforming towns and villages for the day. Miles of bunting, flags, yellow bikes and creative displays helped celebrate some of the world's top cyclists racing through our county.
We are thrilled to announce the winners are:
Bilsthorpe (Newark and Sherwood) 
Plumtree (Rushcliffe)
Woodborough and Newstead village ( joint winners for the Gedling district)
Tuxford (Bassetlaw)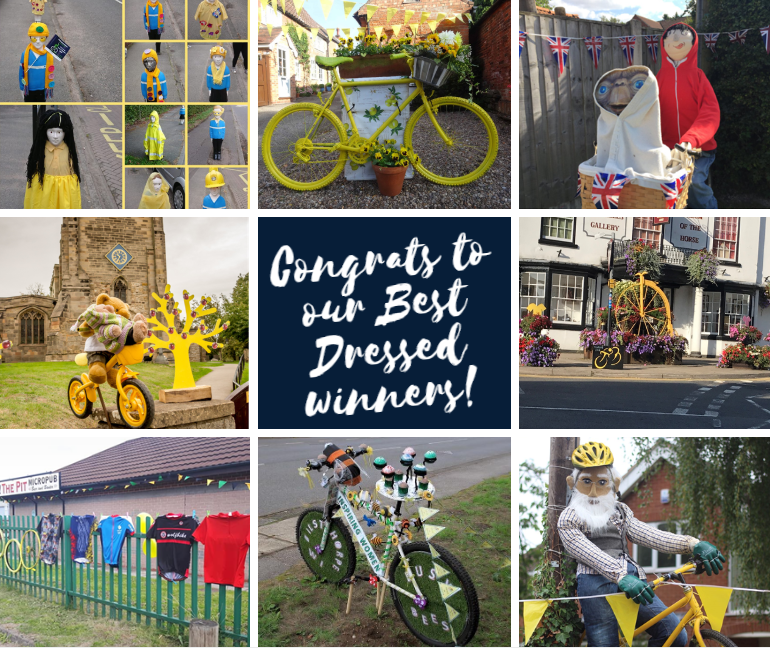 Nottinghamshire County Council Leader Councillor Kay Cutts, MBE helped judge the best dressed competition alongside national race organisers and Notts-based sports events specialists, Perfect Motion. 
Councillor Cutts said,
There were dozens of villages and towns across our county which looked wonderful on the day. Hours of hard work and imagination went into creating the miles of bunting, countless flags, yellow bikes galore and creative displays of land art along the longest stage of the whole race.    It was a very difficult decision to decide on an overall winner in each district.  Each village was judged on effort, creativity and how they captured the spirit of the event, based on images taken on the day.
So congratulations to Bilsthorpe, Plumtree, Tuxford, Woodborough and Newstead. These villages really stood out and will have been seen by millions of TV viewers across the world.   As a testament to all the hard work and creatively shown by residents, all five villages will be presented with a special 'best dressed village' plaque.  I hope these will take pride of place in these communities and be a fitting memento to an incredible day.
Stage seven winner Ian Stannard said,
The Nottinghamshire stage was a very special one for me  – made particularly memorable by the sea of flags, bunting, bike displays and of course the huge, cheering crowds. Congratulations to all the winners.
Tour of Britain Race Director Mick Bennett added; 
 Nottinghamshire had the best crowds and best local-buy in of the whole tour. So the standard for this competition was very high. Well done to all the villages and towns who took the time to take part and embrace the day.
Bilsthorpe Parish Council Vice Chair, Councillor Mel Ward, said, 
The Parish Council, local residents, businesses and community groups all worked together to create a fantastic celebration of the Tour visiting Bilsthorpe. This involved 70 plus individually decorated bicycles on the route through the village along with flags and bunting and on a field by the route, a piece of land art that described the rich, local mining heritage with a giant wheel, decorated with cyclists and a miners lamp in the centre. The amazing community spirit in Bilsthorpe came together to achieve all this and everyone will be delighted to have that acknowledged with this award."

Chairman of Plumtree Parish Council, Councillor Mike Bylina, said, 
We are delighted at the fact that the efforts of the council and local residents had been rewarded.   It had been a wonderful initiative that saw lots of people in the village involved, showing a superb community feeling and making a great effort to ensure Plumtree played its part in expressing the thrill of having the race pass through.

Woodborough resident Deborah Bliss entered her village for the competition had the following to comment...
We are very pleased to have jointly won.  Our displays, which took several meetings in the local pub to plan, were inspired by community spirit, pride in our village and wanting to give the cyclists a warm welcome as they sped through Woodborough.  They included many yellow bikes, metres of bunting and a display of yellow hoops and wheels. 

Scarecrow figures falling into hedges and other fun features were added by homeowners and Woodborough Wood's Foundation School pupils. On the day, yellow twirling umbrellas among the huge crowd completed the display. We were supported by local residents, the Parish Council , Woodborough  Community Association and local businesses, in particular Timmermans Garden Centre and Woodborough Park Farm and their magnificent land art creations.

Newstead business woman, Lorraine Horrocks, also entered the competition on behalf of her village said...
Jointly winning this award is a very proud moment for this community and we hope it inspires others to join in with future community events and celebrations. We are over the moon!
Everyone got involved and dedicated many hours of their time; from the local sewing group,  the local youth club, The Newstead Centre, The Pit Micropub, CAST Angling Project as well as other local residents and Gedling Borough Council. Newstead Parish Council provided hundreds of metres of bunting and balloons which adorned the length of the route through the village. We even have a permanent cycling-related installation created by live on the day by local artist Toz Flanders.

Tuxford Town Council's Lynn Holland said, 
We are thrilled to bits to get this award! We were very proud of our yellow penny farthing as this was made from scratch by our handymen along with the yellow jerseys which were placed in planters plus Tour of Britain logos around the village.