History of Sherwood Forest, Robin Hood and Major Oak
Origins
Sherwood Country Park lies just north of Edwinstowe, two miles from Ollerton and 17 miles north of Nottingham on the A614 Nottingham-Doncaster road. The park is within an area which originally bore a Viking name "birch lund", now known as Birklands.
Early history
Evidence of flint tools shows some use of the Sherwood area by prehistoric hunter-gatherers. During the late Iron Age and Roman periods, human habitation and farming was more common. By the 9th century, farming communities were making a greater impact on the Sherwood landscape. Most of these communities still exist today. Names ending in 'by' like Thoresby, are Scandinavian in origin, 'thorpe' as in Gleadthorpe are Danish, and 'feld' (field) as in Mansfield, are Roman.
Royal hunting forest
The name 'Sherwood' was first recorded in 958AD when it was called Sciryuda, meaning 'the woodland belonging to the shire'. It became a Royal hunting forest after the Norman invasion of 1066, and was popular with many Norman kings, particularly King John and Edward I. The ruins of King John's hunting lodge can still be seen near the Nottinghamshire village of Kings Clipstone.
'Forest' was a legal term, and meant an area subject to special Royal laws designed to protect the valuable resources of timber and game (Vert and Venison) within its boundaries. These laws were strictly and severely imposed by agisters, foresters, verderers (wardens) and rangers, who were all were employed by the Crown.
In the 1200s, popularly thought to be the time of Robin Hood, Sherwood covered about 100,000 acres, which was a fifth of the entire county of Nottinghamshire. The main London to York road, the Great North Way, ran straight through Sherwood, and travellers were often at the mercy of robbers living outside of the law. Hence the name 'outlaw'.
The medieval landscape
Medieval Sherwood was not - as many imagine - a continuous swathe of dense virgin forest. It comprised birch and oak woodland, interspersed with large areas of open sandy heath and rough grassland. Sherwood also contained three Royal deer parks, near Nottingham Castle, Bestwood and Pittance (Clipstone) Park.
Medieval woodland was by no means wild. It was a productive resource that was carefully managed. Landowners got the most value from their woodland by using techniques such as 'coppicing' and 'pollarding' to produce poles and laths for building. 'Underwood' (twigs, brushwood etc) was collected and sold for domestic fuel, and the woodland supported several industries, such as charcoal burning and the stripping of oak bark to use in tanning leather. The autumn crop of acorns produced in oak woodland was used to feed pigs. Cattle, sheep and deer grazed 'wood pasture'.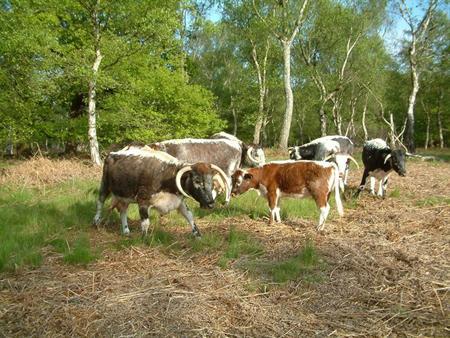 In the 12th and 13th centuries, various Christian monastic orders had established large estates within Sherwood Forest, on land granted to them by the Crown. Among the abbeys founded during this period were Rufford, Thurgarton and Newstead. Established forest communities grew larger, and new ones were created, some often marked by the name 'woodhouse', such as Mansfield Woodhouse. Markets also appeared, as at Mansfield and Market Warsop.
After Henry VIII closed all the English abbeys in 1536 (The Dissolution), former monastic land was granted or sold into private ownership, and much of this land was gradually converted into country house estates. But for some time, within the depths of the forest, life for the peasant classes continued as it always had.
Stuart and later Sherwood
King James I loved to hunt in Sherwood, but his son, the ill-fated Charles I was the last king to use it as a hunting forest. Charles was executed as a result of the English Civil Wars. During this time of unrest, the forest suffered from a lack of proper management. During the late 1600s, King Charles II revived as best he could the game reserves and general management of Sherwood.
By the 18th century, large areas of Crown land in Sherwood had been sold or gifted to nobles and court favourites. These private landlords created the fine country estates of:
Thoresby
Rufford
Welbeck
Wollaton
Newstead.
Because of the titled aristocrats who owned them, these estates became collectively known as the 'Dukeries'. They saw great profit made in Sherwood from the grazing of animals, agriculture and the growth and selling of timber for buildings, furniture, and the ships of the British navy.
Birch was used as domestic fuel, and even oak bark was used in the leather tanning industry. By 1830, the areas of Bilhaugh and Birklands near Edwinstowe, the last of the Crown's land in Sherwood, had been sold.
Victorian Sherwood and The Major Oak
During Victorian times, Sherwood became a tourist attraction, with interest in the ancient 'greenwood' fuelled by romantic novels set in medieval times, such as Walter Scotts' Ivanhoe.
The main areas visited centred around the Major Oak, one of many hundreds of old Sherwood oaks. Its earliest recorded name was the Cockpen Tree in the mid 1800's, as the sport of cock fighting once took place there. In 1790, Major Hayman Rooke, a noted archaeologist, included the tree in his popular book about the ancient oaks of Sherwood.
Since then, The Major Oak has become its new name. Due to its national importance, conservation measures to the tree have been carried out continually since 1908.  
Today, this world famous oak, at least 1000 years old, weighs an estimated 23 tons, its trunk circumference is 33 feet (10m) and its branches spread to over 92 feet (28m).
Industrialisation and the Second World War
The industrialisation of the 19th and 20th centuries brought a major impact on Sherwood. Things that impacted on the Sherwood landscape:
coal mining
new coal towns and villages
the coming of the canals
railways
factories
roads
farming
grazing
ship building and industrial use
Victorian tourism
private ownership
conversion to country estate deer parks.
During two world wars, areas of the forest were requisitioned for military camps, ammunition stores and training areas, and the national need for softwood timber changed the Nottinghamshire landscape with the introduction of extensive conifer plantations.
Sherwood in the 20th Century
By the 1950s, Birklands was part of the Thoresby estate owned by the Manvers family, and woodland management had ceased there, because the area had become uneconomic to maintain. Now undisturbed by commercial forestry, the ecology of this mature native woodland flourished.
A landmark since Victorian times, the Major Oak and its surrounding woodland continued to be popular with a growing number of tourists interested in the Robin Hood legend. The growth of car ownership made it easier for visitors from further afield to access the forest.
Birklands was designated as a Site of Special Scientific Interest (SSSI) in 1954; this area being selected as the part of old Sherwood Forest still best maintaining its historical character and wildlife interest.
The creation of Sherwood Forest Country Park
An area of about 37 acres had been reserved for public access between the nearby B6034 Edwinstowe road and the Major Oak. This became the nucleus of a new Country Park, when we decided to lease 87 acres from Thoresby Estates in 1969, and designate the area under the 1968 Countryside Act. An additional agreement was made, so as the Ministry of Defence vacated parts of Birklands, we would take them over and annexe it to the existing Country Park.
During the next few years we managed and developed the site providing footpaths, car parking facilities, a park ranger service, and a new Visitor Centre which opened in May 1976. By 1978, the extra land incorporated into the park gave a total area of 448 acres.
The Country Park was included as a Grade 1 site for its ancient woodland and heathland in a Nature Conservation Review in 1977, and re-notified as an SSSI under the 1981 Wildlife and Countryside Act.
In 2002, Sherwood was also designated as a National Nature Reserve (NNR), the only one in Nottinghamshire. This was because it had over 1000 ancient oaks, and a unique mix of old wood and heathland, providing shelter to some of Europe's rarest invertebrates. Sherwood is now being considered as a Special Area of Conservation (SAC) under European law.
Sherwood today
Today, Sherwood Country Park is a heritage site of international significance, with annual visitor figures of around 350,000.
We work with many conservation and 'green' agencies such as English Nature, the Countryside Commission and the Nature Conservation Council, committed to its management aims of "sustainable development of its natural resources, heritage and scientific interest, and the enjoyment and education of its visitors".
The Major Oak was crowned England's Tree of the Year in 2014, in a public vote run by the Woodland Trust.