Installing markings on pavements and roads to enable social distancing
Government guidance following the COVID-19 pandemic, reinforces the importance that social distancing measures remain in place throughout our daily lives.
The gradual reopening of schools, shops, businesses and other organisations must be done in-line with government measures and in particular the 'COVID Secure' workplace guidelines.
The implementation of these guidelines may require markings to be installed, which could in-turn impact users of pavements and roads in the county.
We ask all businesses to carefully consider the impact of any measures taken to make their business COVID Secure and how this works in conjunction with neighbouring businesses and users of the highway.
We've put together a few pointers to help you.
Materials for markings on the highway
We appreciate in advance of more organisations opening that there may be a requirement for further markings on both the pavement and in some cases the road. There are several ways this can be carried out and we advise that this is done using a non-permanent medium as highlighted below:
Anti-slip self-adhesive tape

Yellow and black tape is an effective solution to highlight and encourage a 2m distance between queuing customers or areas of your premises. You must ensure that any self-adhesive tape used is anti-slip to minimise the risk of any slip related incidents occurring.


Chalk-based temporary spray paint

In some cases, where the markings required are extensive or there is a potential that they may need to be altered, we recommend the use of a chalk-based temporary spray paint. Markings made with this paint can last up to three months but can also be easily washed off allowing changes to be made to the layout. We recommend that any paint markings are checked regularly and are renewed if there are any signs of deterioration. Please don't use permanent paint.
Existing markings in public urban areas
In public areas, some markings may already be in place to assist the public in social distancing.
Please be mindful when installing any markings to ensure that they maintain a 2m distance and allow social distancing to continue to occur in other areas.
You must ensure that markings do not encroach onto pedestrian crossings, bus stops or pedestrian refuges and that a pavement width of 2m is maintained wherever possible.
Existing markings on the highway near schools
Please be aware that in the vicinity of schools where there is an active School Crossing Patrol, there may already be markings on site or plans to install similar markings as illustrated below.
If there is a requirement to mark in these areas, please contact roadsafety@viaem.co.uk for advice.
We are here to help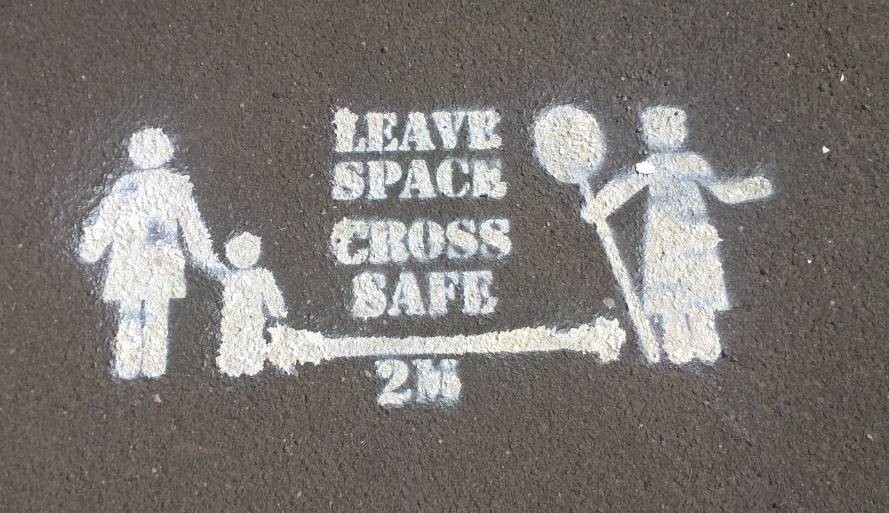 For any further advice or guidance regarding to temporary road markings, contact the relevant Highway Manager for your district:
Bassetlaw – pauline.laughton@viaem.co.uk
Newark – mike.keeling@viaem.co.uk
Mansfield & Ashfield – johnny.davies@viaem.co.uk
Gedling & Broxtowe – dave.walker@viaem.co.uk
Rushcliffe – laura.trusler@viaem.co.uk