Starting and growing your business
Start-up or grow your business in Nottinghamshire by accessing support and advice from the County Council and its partners, providing your business with a competitive advantage to successfully develop and compete on a local and global basis.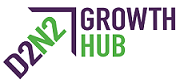 A number of local and national organisations will support your business, but your first call should be to the D2N2 Growth Hub. The County Council has made a commitment to support the Hub as the first call for business advice across the County. The D2N2 Growth Hub offers advice on starting a business, on growing your existing business, on finance, markets and on skills issues.

Supported by European structural and investment funds (ESIF) EU funding, the Council has appointed two skilled Business Support advisers who are working in partnership with the D2N2 Growth Hub to support Nottinghamshire businesses to thrive and grow. You can contact them through the Growth Hub by phoning the enquiry service on 0333 006 9178. Your query will be registered with the Hub and we will offer you an initial review and support you directly or link you with the various sources of support across the county.
Having reviewed the D2N2 Growth Hub website, you can seek further assistance by calling the Helpline on 0333 006 9178.
Nationally, GOV.uk is the Government website that contains a wide range of support on national schemes and advice on all of its services. There is a specific section on businesses, with simple and practical information about starting up and running a business in the UK, including help if you're self-employed or a sole trader.
Case study: the Split Screen Coffee Company