Steff Wright, Gusto Construction, Collingham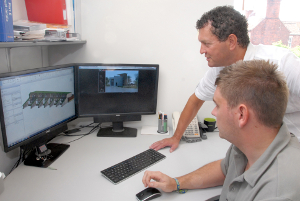 Gusto Construction has found that slow broadband speeds are a thing of the past after becoming Better Broadband for Nottinghamshire's first superfast broadband customer.
The thriving local business based in Collingham, near Newark, has extensive experience in all types of residential and small to medium sized commercial construction projects.
"We're demanding users of the internet. It's fundamental to our business but we were struggling to get speeds of even 1Mbps on some days," said Gusto chief executive Steff Wright.
"We were delighted when we heard about the Better Broadband for Nottinghamshire programme and even more delighted when we found out that Collingham was going to be the first place to benefit from the project."
Gusto Construction is a customer of Newark based internet service provider, Timico.
"We placed our order as soon as the cabinet was installed in the village. Within a matter of days our internet connection was boosted to a superfast 60Mbps.
"It's dramatically improved the way we operate. The speed and immediacy of our new connection allows us to all get online at the same time and do whatever we need to do almost instantly," explained Steff.
"We'd been holding off on upgrading our operating system to Microsoft Office 365 because we didn't think our internet connection would handle having so much data stored in the cloud but now we can use it seamlessly.
"But where we've really noticed the difference is with uploading files. We've now got 20Mbps upload speeds which means that our architects SGA, who regularly need to send large planning files between our sites and to their other customers, can now send them in a matter of seconds whereas it could take hours before. I can't recommend it highly enough."