Jason, owner of ARDA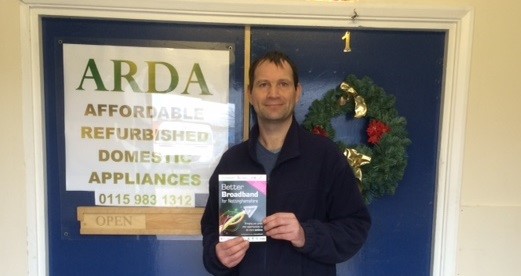 Slow upload and download speeds are now a distant memory for Jason, Owner of ARDA, thanks to the Better Broadband for Nottinghamshire Programme.
ARDA are a small family business, based on Machins Industrial Estate in Gotham, set up with the intention of making white goods more affordable, and to keep as many as possible away from the Landfills by giving them a new lease of life, and a nice new home.
"Prior to Nottinghamshire County Council's Engagement Officer, Tim Dring, arriving at my business I wasn't even aware I could upgrade to fibre-optic broadband," said Jason.
"The frustrations I had on a daily basis trying to run my business on shockingly slow upload and download speeds were a real hindrance"
"Being able to upload numerous images quickly and efficiently to my website is absolutely essential for my business. Prior to upgrading, I could start the upload process, go and make a cup of tea, drink the tea, return to the computer and it would still be uploading. Those days are long gone"
"Thanks to the improved upload and download speeds I am now able to spend more time working on the products preparing them for sale, enabling me to focus more on growing the business – it's changed the way I operate for the better"
"I didn't expect a member of the Better Broadband for Nottinghamshire Team to knock at my door that day, but I'm glad they did!"
The Better Broadband for Nottinghamshire programme (BBfN) is a £19.8m programme led by Nottinghamshire County Council and BT. It aims to build on the private sector's roll-out of fibre broadband to provide 95% of the county's homes and businesses with access to the high speed technology by March 2016.