What next for Nottinghamshire's winter teams?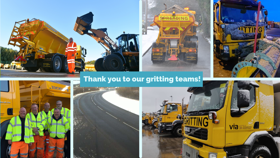 Winter has now made way for spring, and with that, our gritting teams will shortly be preparing to move into other seasonal roles.
Every winter, the team of 30 drivers from Via East Midlands go onto part-time standby on 1 October and then full-time, 24-hour, standby on 1 November until April.
This year has seen the team complete 76 gritting runs and spend a total of more than 248 hours on the road, which is equivalent to spending 10 consecutive days and nights gritting!
The team has also used over 14,033 tonnes of grit to salt the county's gritting routes, and while they've been doing so, they've clocked up miles equivalent to driving around the world three times!
But with the warmer weather comes a new set of duties for our winter teams who will now move into other seasonal roles including grass cutting, strimming, verge and hedge maintenance and weed control.
Frank Fearn, Seasonal Operations Coordinator for Via East Midlands, said: "This winter may not have been one of the coldest and harshest that Nottinghamshire has ever seen, but conditions were still hazardous enough to ensure that gritting teams went out on a significant number of runs.
"The role of a gritter driver is like no other in that they could be sent out at any hour of the day or night, sometimes even multiple times in a day or evening.
"Their role is all dependent on the weather, and this year the busiest period was between 11 and 25 January 2022 where the team completed 15 consecutive nights of gritting runs.  
"I speak on behalf of the seasonal operations team when I say that we are proud to keep Nottinghamshire safe in all conditions."
Councillor Neil Clarke MBE, Chairman of the Transport and Environment Committee at Nottinghamshire County Council, said: "Our winter teams have once again done a brilliant job of keeping communities across Nottinghamshire safe during the colder weather.
"Their role should never be underestimated as they mainly work during the hours when the rest of us are tucked up at home in the warm with our families.
"They do all of this to make sure that when you or I make a trip on the highways network during winter, we are safe and can have the confidence of getting to where we need to be.
"Many might wonder what the team do for the rest of the year when the gritting season comes to an end, and I'd like to recognise that they continue to give their all to other areas of seasonal operations.
"So, as the weather turns warmer, we won't now see our gritting teams again until October or November, but when you're out and about in your community and see a council vehicle out maintaining verges or cutting grass, keep in mind that this will likely be operated by one of our winter heroes who I am sure you will join me in thanking for all of their efforts this winter."