Two years of supporting young lives: Notts youth mental health website marks second anniversary on Youth Mental Health Day.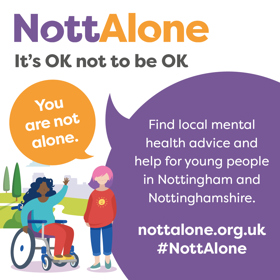 NottAlone, the leading mental health resource for children and young people in Nottingham and Nottinghamshire, is proudly celebrating its second anniversary this Youth Mental Health Day, Tuesday 19 September.
Over the past two years, NottAlone has been providing support to children and young people who are navigating the complexities of mental health challenges, by offering local, tailored mental health advice and signposting. It plays an important role in bridging the gap between young individuals and the mental health support they need.
The website shares helpful articles and videos which address issues that profoundly affect young lives, including topics such as exam stress, bullying, anxiety, and low mood. It also connects young people with valuable local support services which are all free to access, ensuring that help is never far away.
Since NottAlone was launched, almost 35,000 users have made over 100,000 page views on the website and the most visited webpages include anxiety and panic attacks, anger, depression or low mood, self-harm, and body image.
To mark the anniversary and show that NottAlone continues to evolve to meet the needs of local young people, new content has been added to the website for Youth Mental Health Day, with new topics including online safety and gambling harm prevention.
NottAlone is also celebrating its anniversary by announcing that following the success of the first NottAlone Live event this year, the event will be coming back in February 2024, even bigger and better than before.
The first NottAlone Live event, held in February 2023 as part of Children's Mental Health Week, saw over 1,000 children and young people from across the city and county come together to take part in workshops around mental health, hear motivational speeches, see inspiring performances and have a go at activities such as dance, yoga, calligraphy and football. They also had access to a wealth of information provided by local support services, with over 40 stall holders at the event to spread the message about the mental health and wellbeing support available to young people.
The organisation of the event was a successful collaboration between Nottingham City mental health support team, and the NottAlone consortium, with the teams coming together again to make plans for next year.
Dr Maddi Popoola, an Educational Psychologist and the Mental Health Support Team Service Manager at Nottingham City Council, and Dr Orlaith Green, Principal Educational Psychologist and Group Manager for Psychology & Inclusion Services at Nottinghamshire County Council, Co-Founded NottAlone; joining together strengths from both Nottinghamshire County Council and Nottingham City Council with the aim of making sure all young people in Nottingham and Nottinghamshire know where they can find support if they need it.
Dr Maddi Popoola said: "I'm incredibly proud to celebrate two years of NottAlone, and it was so rewarding to see the impact we were having directly with some of these young people at our first NottAlone Live event this year. But most importantly, I want every young person out there to know that they are not alone in their mental health journey. NottAlone is here to be a safe space for information and support on a variety of issues that impact young people's mental health."
Dr Orlaith Green said: "NottAlone is an invaluable mental health resource for young people in Nottingham and Nottinghamshire, and I am immensely proud to celebrate our two-year anniversary. In a world where the weight of uncertainty and emotional challenges can often feel overwhelming, we want every young person to know they are not alone.
"Maddi and I are also excited to bring NottAlone Live back for the second year. The success of the first event really showed how much this work is needed."
Dr Maddi Popoola added:
"For the next NottAlone Live we're excited to share that it's going to be bigger and better, aiming for two events rather than one. Schools will need to keep their eyes peeled for invitations to the events, which will be held in February 2024 as part of Children's Mental Health Week."
To keep up to date with NottAlone announcements, follow @NottAlone1 on X (formerly Twitter) and Instagram.
Visit NottAlone to get advice and support on children and young people's mental health: www.NottAlone.org.uk
NottAlone is a partnership between Nottinghamshire County Council and Nottingham City Council and supported by the NHS Nottingham and Nottinghamshire Integrated Care Board.