Thousands celebrate Nottinghamshire Day at Sherwood Forest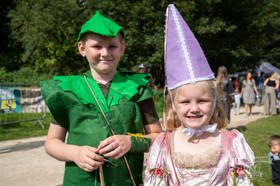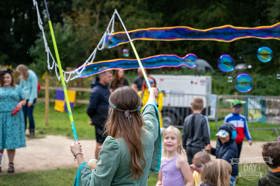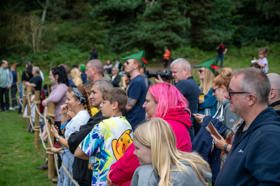 More than two thousand people are estimated to have attended the Nottinghamshire Day celebrations at Sherwood Forest County Park last weekend.
The free-to-attend event was a celebration of all things Nottinghamshire, led by the County Council working with partners such as RSPB, Notts Outdoors and Inspire, as part of the annual Robin Hood Festival.  The event was a follow-up to Nottinghamshire Day itself which is marked every 25 August.
A new all-action arena combat show from the Sherwood Outlaws, 'Battle for the Greenwood' proved to be a real crowd pleaser. Crowds also enjoyed activities including archery and axe throwing, getting involved in Inspire's the Big Draw and browsing stalls hosted by Nottinghamshire attractions.
There were also performances from The Medieval Maniax and Bill Brookman, historical re-enactment from The Ferrers Household and the College of Chivalry, terrific tales from Storytellers Past Imagined, and the wonderful Medieval melodies of Sloe Gin.
Councillor John Cottee, Cabinet Member for Communities said: "The rain showers definitely didn't dampen the spirits at this year's Nottinghamshire Day celebrations. It was great to see so many people come together to celebrate our great county in the home of our legendary outlaw, Robin Hood.
"The performances were fantastic, and I was delighted to see many eventgoers got into the spirit and donned Robin Hood hats and dressed up for the occasion.
A spokesperson from event partners RSPB added: "We had a wonderful day, welcoming so many people to Sherwood Forest to enjoy a full programme of highly entertaining performances and fun activities across the reserve. Sherwood is a touchstone for the county's cultural and natural heritage, and it has been a privilege to be chosen as the venue for our county day festivities once again. It was fantastic to see so many Robin Hood hats being worn too!"
Rob Brackley, aka Robin Hood, was in action on the day courtesy of Notts Outdoors, the county council's outdoor education service.  He said, "It was a real party atmosphere with a medieval vibe!"