What's on across Nottinghamshire this summer.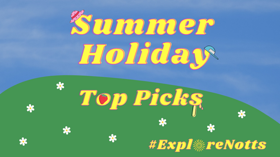 A super summer of fun for all the family is on the horizon. The school summer break is almost here and there are a variety of activities running throughout Nottinghamshire to entertain and get involved in.
From have-a-go archery in Sherwood Forest and Totally Roar-some at Rufford Abbey, to the Summer Reading Challenge at Inspire libraries, the county has something to offer everyone!
Councillor John Cottee, Cabinet Member for Communities at Nottinghamshire County Council, said: "For those hoping to explore the outdoors this summer, our country parks and green spaces offer thousands of acres of opportunities to explore Nottinghamshire. So, whether you're planning a walk in the summer sun at Rufford Abbey, a visit to one of our libraries, or an adventurous activity day at our National Water Sports Centre, Nottinghamshire has it all. The first ever Notts Day Festival is being held at Sherwood Forest, which promises to be a celebration of local musical talent, open to all.
"If you're attending an event or exploring the outdoors, don't forget to share your photos with us on social media, making sure to tag #ExploreNotts."
Featured events for the summer include:
Sherwood Forest - Myths and legends with the Master at Arms
From 23 July 2022
11:00am - 12.30pm
Prices: Adults: £7.50 (£6 RSPB members) Children: £5 (£4 RSPB members)
Join William De Tankerville, The Sheriff of Nottingham's Master at Arms, as he takes you on a tour of the majestic Greenwood, sharing stories of medieval life and the villainous Robin Hood.
William has become very familiar with Sherwood while on the hunt for Robin Hood and knows the most beautiful pathways… and the deadliest! Although do not fear good citizens of Nottingham, not even the dastardly Hood would dare take on the Sheriff's most experienced warrior!
This walk will take you on a journey through the forest, hearing the tales of its most legendary inhabitant and medieval life.
Notts Day Festival – Sherwood Forest
Date: 27 August 2022
12:00pm - 8:00pm
Free
Local parking charges apply
A celebration of live, local musical talent and hosted by Nottinghamshire's very own ROB. GREEN.
White Post Farm - On Tour – Rufford Abbey
From 3 Aug - 31 Aug
£2.50 per person (pay on the day)
The White Post Farm team will be bringing a selection of animals to meet you. From fluffy to scaly, the animals are all very friendly and excited to make some new friends
Adventure Holiday Club – National Water Sports Centre
Join us for the ultimate outdoor Adventure Holiday Club. Kids can enjoy whizzing around our Sky Trail and the adventurous Climbing Wall. There's water-based fun too with the BRAND-NEW Lagoon Wipeout and the more traditional Kayaking, Canoeing, Raft Building.
Child drop-off: 08:30-09:00 Collection: 17:00-17:30
From 1 August - 26 August
Packed lunch provided Suitable for ages 8-14
£48 per child, per day
Storybeats: a family storytelling and music workshop selected Nottinghamshire Libraries
Join this free, energetic music and storytelling workshop bursting with creativity and a chance to learn new musical skills with Dave "Stickman" Higgins.
Together we'll discover how we tell stories and create whole new worlds using percussion, rhythm, and our voices.
For children aged 5-9 and their grown-ups. Free, booking advised.
Various libraries and dates throughout July and August.
Notts outdoor holiday club, put location
Age range: School Years 3 - 8
Runs weekdays only - bookings only available in weekly slots
From £25 per day
Your child will get to try new activities, learn new skills, and make new friends all while having fun in the great outdoors.
Activities available during holiday clubs are weather dependent and subject to change.
More ideas and updates can be found here.