Team set to race in AJ Bell Tour of Britain in helmets designed by Nottinghamshire students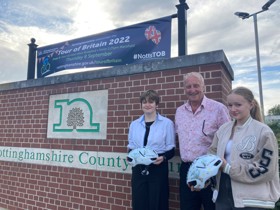 A team of riders competing in this year's AJ Bell Tour of Britain cycle race will be wearing a special helmet designed by two Nottinghamshire students.
The Ribble Weldtite Pro Cycling team is set to sport headwear featuring artwork created by 15-year-old Grace Deuchars, of Keyworth, and Brooke Rogers, 14, from Carlton, when the race passes through the county tomorrow (Thursday 8 September).
Their designs were chosen after jointly winning a competition for schoolchildren, aged 12 to 18, run by Nottinghamshire County Council and its partners Via East Midlands, Ribble Weldtite – which includes Mansfield-based cyclist Ross Lamb – and Nottingham Print and Web.
Grace and Brooke originally produced individual pieces of artwork before working together on a collaboration with Gary Marsh, of Nottingham Print and Web, to create the final design.
Their winning design tells the story of the route through Nottinghamshire and pays homage to our legendary outlaw Robin Hood and Sherwood Forest, and also features an image of well-known landmark, Southwell Minster.
Councillor John Cottee, the county council's Cabinet Member for Communities, congratulated Grace and Brooke for their success in the competition.
He said: "Grace and Brooke are two extremely talented young women, and I can't wait to see the Ribble Weldtite team sporting their helmets on Thursday.
"I can't imagine how excited they must be looking forward to seeing their creative efforts being showcased in front of a worldwide television audience, as well as the thousands of people who will line the route from West Bridgford to Mansfield.
"Congratulations to both Grace and Brooke on winning our competition. They should be proud of what they have achieved and are credit to their families and schools. Well done."
Gary Marsh said he was delighted to work with the two students to transfer their final design onto the helmets.
He said: "We were thrilled to be asked by Nottinghamshire County Council to be a partner for the helmet competition as part of its Tour of Britain cycle race promotional work.
"It was a pleasure to be able to welcome Grace and Brooke along to our studio to work with them and adapt their original artwork to create the final design for the Ribble Weldtite team to wear on Thursday.
"Myself and my colleagues at Nottingham Print and Web are really looking forward to the Nottinghamshire stage of the race and it will be great to see the helmets designed by Grace and Brooke appear on national television."
Grace, a student at South Wolds Academy and Sixth Form in Keyworth, says she wanted her element of the design to reflect her own personality as well as what Nottinghamshire is famous for, such as the world-renowned Sherwood Forest.
She said: "I was ecstatic when I found out my design would be featured on the helmet. I went to my dad and literally started jumping up and down. I showed him the email saying I had won – I was on top of the world.
"It was very daunting walking into the design studio on the day, but it was also very cool because they had several fancy computers for us to work on.
"It's quite impressive to see my work on the helmet. I'll probably feel astounded and starstruck when I see the team wear the helmets because this sort of thing doesn't really happen to me."
Brooke, who attends Christ the King Catholic Voluntary Academy in Arnold, says she is looking forward to seeing her helmet on national television tomorrow.
She said: "I feel really proud that my design is going to be on the helmet for the Tour of Britain. It's exciting and I was shocked when I found out I'd won the competition.
"I do enjoy doing art and it was enjoyable going to the studio to work on the design."
The showpiece AJ Bell Tour of Britain race returns to Nottinghamshire for a third time after it was successfully held here in 2017 and 2018 – with around 250,000 spectators lining the route four years ago to watch the race.
This year's race starts at 10.45am on Central Avenue in West Bridgford and finishes at around 3.30pm on Chesterfield Road South in Mansfield. The 116-mile route takes in some of the county's top landmarks, countryside and dozens of towns and villages across Nottinghamshire.
The AJ Bell Tour of Britain started in Aberdeen on Sunday and live coverage of the race is shown daily in the UK on ITV4, in addition to around the world.
The county council's website has more information about the Nottinghamshire stage of the event, while you can sign up for our emailme bulletin to get all the latest race news delivered straight to your inbox.