Sutton Bonington Crossroads to get safety improvements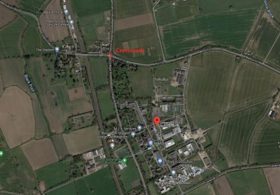 A Nottinghamshire crossroads in Sutton Bonington is due to receive improvements ahead of the summer, after the University of Nottingham partnered with Nottinghamshire County Council and Via East Midlands to help improve safety at the junction.
The crossroads links three roads on the outskirts of the village - College Road, Station Road, and Melton Lane – and is located close to the University of Nottingham's Sutton Bonington Campus.
Following reports of collisions at the junction, plans are in place to implement new interactive signs on the approach to the site, as well as change the junction from a 'Give Way' to a 'Stop'.
The changes ensue after collaborative work between Nottinghamshire County Council, Via East Midlands, and the University of Nottingham, who are jointly funding the improvements.
As part of the work, areas of the junction will also be resurfaced to improve the road surface.
The upgrades will commence shortly, with the works due to be completed by the end of June.
Nottinghamshire County Council's Cabinet Member for Transport and Environment, Councillor Neil Clarke MBE, said: "Improving the safety of our roads for the residents of Nottinghamshire is extremely important to us and together with the University of Nottingham, we're pleased to have been able to take an active approach to improve the junction and I would like to sincerely thank the University for their generous financial support to allow this project to happen."
Professor Sam Kingman, Pro Vice-Chancellor and Chair of the University Estates and Infrastructure Committee, said: "We have been working in close collaboration with our local partners over a number of years to monitor this accident hotspot close to our Sutton Bonington Campus and to develop solutions to reduce the risk of road traffic collisions at this junction.
"We are pleased to be able to offer this financial contribution of £50,000 towards the installation of new interactive, illuminated signage, which we see as an important investment into the safety of our staff, students and the wider community, which has supported this work."
Nottinghamshire County Council Member for Leake and Ruddington, Councillor Matt Barney added: "I cannot thank the University of Nottingham enough for their incredible financial support towards the crossroads improvement scheme. The University have stood alongside me every step of the way, as together we have fought for appropriate safety improvements to be made at this junction.
"I would also like to thank our local Parish Councils for their unwavering support.
"I'm also hugely grateful to a local resident, who collated and maintained crossroads issue data. Thank you to all – a great team effort."