Statements on the death of Her Majesty The Queen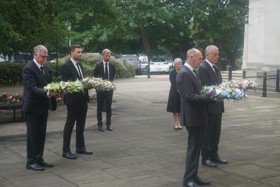 Sir John Peace, Lord Lieutenant of Nottinghamshire 
"I am deeply saddened by the passing of Her Majesty The Queen and join the nation in Mourning. 
"Loved, admired and respected by people from all walks of life, young and old alike, we will hold memories of Queen Elizabeth II dearly in our hearts forever. 
"In 1947, the young Princess Elizabeth made a memorable speech when she dedicated herself to serving our country. For seven decades, that is exactly what she has done - with a commitment and sense of duty that were unsurpassed. 
"Her Majesty's visits to Nottinghamshire showed her warm, generous spirit. Her presence here in this county will be greatly missed and our entire community is grieving her loss.  
"The people of Nottinghamshire send heartfelt thoughts and prayers to The Royal Family at this difficult time."
Nottinghamshire County Council Leader, Cllr Ben Bradley MP
"The passing of Her Majesty, Queen Elizabeth II, marks the end of an era. She has been the one constant throughout many decades of immeasurable change and progress for the nation, and across Britain many of us looked to her as a truly great and inspirational leader, for security and for hope in difficult times.
"Whilst I've been lucky enough to have attended events with the Queen, I've never met her directly, but still I – and I think many of us – feel a huge connection with her and that we know her. She has been a source of great pride, and a model of duty and service for everyone throughout our entire lives.
"I think in recent years her interventions during Covid in particular, when she told us that 'we will meet again', lifted spirits and brought hope to a lot of people. It's an incredibly sad day, and my thoughts are with her family who have to bear the weight of both mourning the loss of their mother, their grandmother - the figurehead and mainstay of their family – but also now adhere to the sensibilities, the traditions and protocols of office, through their own grief. That must be incredibly challenging, and my heart goes out to them.
"The end of any era, of the Elizabethan age, also marks the start of a new one. King Charles III is our new monarch and Head of State. I look forward to pledging my allegiance to him and to Britain in Parliament.
"The world continues to turn and the country faces many and complex challenges, and I know and trust that King Charles, who has increasingly been acting for and supporting his mother in recent months and years, will continue to provide that constant presence and that sense of continuity for the country.
"In practical terms, both locally and nationally, well-rehearsed plans are in place and will now be rolled out over the coming days.
"A Book of Remembrance is open at County Hall, and at other Councils around the county, and I would invite members of the public to come and sign it, or to lay flowers at the memorial by the front entrance if they wish to pay their respects in that way.
"There will also be an event this Sunday, and events that will take place across the country, to proclaim the accession of the King. We'll make details of that event available shortly for those who want to attend."
High Sheriff of Nottinghamshire, Paul Southby
"As has been said by many people since yesterday's sad news of the death of Her Majesty, Queen Elizabeth II, she was the only Monarch I have known, and that will be true for the majority of people in Nottinghamshire. The Queen and her family have – over the years – provided great support to our County and its people, and whilst it is inevitable that this will be an emotional time for all of us, much of the reason for that will - of course - flow from our happy memories of special moments we have witnessed, whether because we were present in person at Royal visits to the County, or because we saw them on television. The Queen's solid presence in all our lives will be sorely missed.
"On one occasion when I was lucky enough to have been close to the Queen on a Royal visit in 1977 for her silver jubilee year, what shone through as I watched her interact with the people present was firstly a genuine interest in what people were saying to her, and secondly her clear and obvious respect for everyone, irrespective of their appearance, their age, their religion, or anything else by which others – sad to say - often judge their fellow human beings. Her deep respect for, and her focus on, the dignity of everyone she met brought deep love and admiration for her, and for the service she gave to our nation and its people, the commonwealth and to others all over the world.
"Having very recently lost my own father, my thoughts are with our King and all members of the Royal Family in what I know will be a difficult time for each and every one of them, young and old. I wish for them the space and the peace to deal with their loss. As we enter a new era in our country's history, I look forward with hope, loyalty and respect to the reign of His Majesty, King Charles III."