Significant milestone reached at East Leake School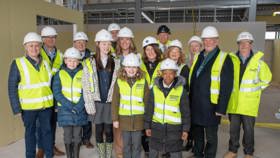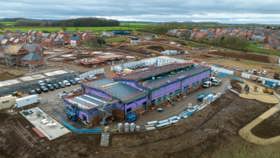 A topping out ceremony has marked a major milestone at the new £9.2m school in East Leake which will create vital school places for the village.
Millside Spencer Academy is part of a £14m investment in education in East Leake by Nottinghamshire County Council.
The academy is being delivered by Morgan Sindall Construction, designed, cost-managed and project managed by Arc Partnership, a joint venture between SCAPE and the County Council and run by Spencer Academies Trust.
The two-storey building includes 8 classrooms, a nursery, a library, a food-tech room, a hall and dance studio.
Once the keys to the school are handed over this summer, it will provide 350 primary and 26 nursery places in the heart of the new David Wilson Homes housing development, The Skylarks.
Councillor Tracey Taylor, the county council's Cabinet Member for Children and Families, who recently had a progress tour at the site, said it was wonderful to see how the school was taking shape and to chat to staff and pupils about how much they're looking forward to moving in for the new academic year.
Cllr Taylor said: "I am delighted to be working with our partners to deliver this fantastic project and Millside Spencer Academy will be a great addition to the county's family of schools – as well as a huge benefit to a village where many new families have moved to.
"The County Council is committed to investing in our children's futures by building new schools where needed across the county, and we've also set aside more than £9.5m over the next two years to refurbish schools in every borough and district of Nottinghamshire.
"The Council's major investment in delivering the new Spencer Academies Trust-sponsored East Leake primary school reinforces our commitment to ensuring all Nottinghamshire children have access to the best education and have an opportunity to succeed."
Located on former farmland on Rempstone Road, ground level works at the school is now complete and this will be followed by the installation of foundations and the erection of the steel frame. The first-floor planks, windows, doors and internal partitioning have also been fitted and the contractor is now turning its attention to the mechanical and electrical fixtures and external bricklaying and rendering.
Councillor Reg Adair, Deputy Cabinet Member for Economic Development, said: "This school will be a wonderful asset for the families of East Leake and the feedback from everyone involved points to an excellent advert for partnership working at its very best.
"Once the school is handed over, the Temporary Learning Village will be removed and used elsewhere to make way for the delivery of a new school field which will complement existing outdoor play areas.
"I'm also delighted that the 30% target for the contractor to use and spend with local subcontractors within 20 miles has been exceeded."
This is the third successful project between the County Council, Arc Partnerships and Morgan Sindall following the successful joint delivery of Bingham Primary School in August 2022 and Rosecliffe Spencer Academy in May 2021.
Sara Williams, head of pre-construction at Arc Partnership, said: "We are proud to be working in collaboration with Nottinghamshire County Council and Morgan Sindall to design and manage the project delivery and bring much-needed school places to the local community.
"Supporting the council's move towards low carbon solutions, the school has been designed to be Net Carbon Zero in operation. It will have high levels of building fabric insulation, and a range of sustainable features including an all-electric strategy, meaning no fossil fuel will be burnt on site and as the National Grid decarbonises, the carbon emissions associated with the building will reduce."
Principal Sophia Thorne, at the Spencer Academies Trust, said: "The Millside Spencer community is amazed at the speed that our new school building is progressing. These facilities - alongside our existing on-site Forest School area, dedicated staff team, supportive parents and inspirational children - will continue to make Millside Spencer a happy school where everyone can shine."
Richard Fielding, area director at Morgan Sindall, said: "We are thrilled to mark the progress at Millside Spencer Academy with a topping out ceremony which highlights another significant project through Arc Partnership. We are delivering a school which will not only create vital pupil places, but also inspiring and modern learning environments. We will continue to engage with the local community through our social value initiatives and work towards our net zero goals as we near completion this summer."

ENDS