Senior team leader shines a light on county council career which began as a cleaner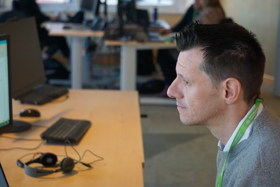 A Business Support Officer has shone a light on a career spanning more than two decades with Nottinghamshire County Council – which began as a cleaner when he was a teenage student.
Danny Wallace joined the County Council in 2001 as a cleaner at Meadow House in Mansfield and at the town's former County Contact offices 'to help pay the rent' while he was attending West Notts College.
Now more than two decades later, Danny is currently based at Lawn View House in Sutton-in-Ashfield and has been a Business Support Officer since April 2020.
Danny leads a team of 16, who provide support to a variety of key areas, including: handling fixed penalty notices involving parents for unauthorised school absences, issuing licenses to chaperones who supervise children taking part in a performances and applications for the Adoption Support Fund.
He also manages three workers based within Notts Outdoors (the outdoor and environmental education service for the County Council) which has eight outdoor centres across Nottinghamshire and Derbyshire.
"There's a lot of juggling involved with my role," says Danny, who lives in Mansfield.
"I also monitor budgets across these teams (nine in total) to support the operational managers in the family service, to do their bit. This includes checking and processing invoices.
"There's a lot of decision-making and queries, especially in relation to the school fines. We also deal with grants – we do the Adoption Support Fund – so deal with all of that. The Family Service may not sound a lot but there's a lot of different aspects to it and some of the work is complex."
Danny's road to becoming a senior team leader also included a stint working as a caretaker and receptionist at Meadow House, as well as spells in Adult Social Care and Children's Services.
Danny said: "Working on reception gives you a good knowledge of a lot of things which happen in the building. It was a good starting point.
"I really enjoy the variety of my job and I work with some fantastic people."
Danny's team plays a key role in helping families who may be going through a difficult time either financially or a child with challenging behaviour and he says his role can be 'really rewarding' when it comes to supporting young people and their families.
So, with a wealth of experience behind him, Danny is putting his 20-plus years of knowledge to good use by helping to nurture the next generation of talent.
He said: "Even before I was a manager, I've always been keen to help new workers. When we get temps or apprentices into the business, I tell them that 'if you're learning and you work hard, you will be noticed and there are chances to progress'.
"I look for training courses to help team members and make sure to put some time in my diary to talk through the things I think they will need to develop as individuals.
"I've had team members who have gone on to work in Adult and Children's Care, after their foundation with business support. They've progressed that way."
As well as progressing in his career with the County Council, it's through his work (whilst in reception) that Danny met his wife Leah – who also works in Family Service Business Support.
Councillor Gordon Wheeler, the County Council's Cabinet Member for Personnel, paid tribute to Danny and said his career journey would help to inspire others.
He said: "I was amazed to hear about Danny's story with Nottinghamshire County Council when Cllr Jonathan Wheeler and I met him and his colleagues in the Business Support Service at Lawn View House recently.
"He is a credit to the County Council and I am delighted he's playing a key role not only in delivering vital services, but also in helping to develop and nurture the staff who work for him.
"I would like to extend my thanks to Danny, his colleagues and all of our hard-working staff for their commitment and dedication in supporting residents across Nottinghamshire."
ENDS