Rivendell Flying High Academy welcomes visit by County Councillors to see the progress of the new academy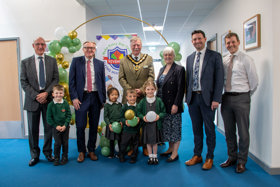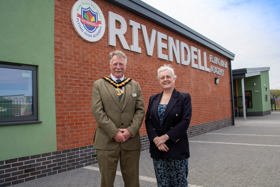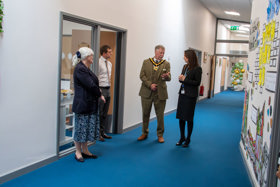 Rivendell Flying High Academy, the new school at the heart of the Rivendell development off the A612 Colwick loop road, recently welcomed Nottinghamshire County Councillors for a tour as it embarked on the summer term of its first year.
In partnership with the county council and builders Persimmon Homes, The Flying High Partnership was chosen to oversee the running of the new school and welcomed its first pupils in September 2022.
Given the tour were Councillor Tracey Taylor, Cabinet Member for Children and Families, Chairman, Councillor Roger Jackson, and Steven Hawkins, Senior Pupil Place Planning Practitioner who met children and staff, as well as members of the multi-academy trusts' central team.
Chris Wheatley is CEO of The Flying High Partnership, and he said this was the second new school they have developed in partnership with the county council, the first being the now thriving Hucknall Flying High Academy opened in 2019.
Chris said, "It was fantastic to welcome our visitors into Rivendell Flying High Academy, to show just how far this wonderful school has progressed in its first year. The Councillors' visit provided not only an opportunity to talk through the academy's progress and future plans, but also to look back on the successful partnership we have developed with Nottinghamshire County Council to oversee the creation of this exciting academy. We were proud to demonstrate that this is a wonderful environment for children to develop and learn, and a crucial part of the success of the new housing development. The children and staff at the academy are thriving, and we were proud to show our visitors all of the fantastic work they have been doing".
Councillor Tracey Taylor, Cabinet Member for Children and Families, said "It is our aim to provide an excellent quality of schools and education to children in Nottinghamshire and I am most keen to see the exciting plans for Rivendell Flying High Academy unfold over the next few years, given the success of our last partnership with Hucknall Flying High Academy.
"The school is looking wonderful, and for such a new building to be so 'lived in and alive' it was really a pleasure to see and experience".
Chairman, Councillor Roger Jackson, said "I was delighted to be invited to Rivendell Flying High Academy and see the results of all the hard work and efforts that have gone in to creating this incredible new school for Nottinghamshire families.
"The children were very proud to show us around their inspirational and creative learning space and I was also very impressed by the staff's dedication to helping children flourish.
"Seeing the children in their element and enjoying its range of facilities such as the nursery, allotment, interactive play area and a wonderful outdoor space was a testament to how much thought has gone into building a school with the children's needs at the forefront".