Regatta Way works to start in January 2022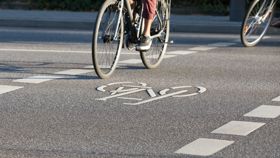 Works are set to begin in January on a new cycle and footpath on Regatta Way in West Bridgford.
Once complete, pedestrians, cyclists and other footway users will benefit from an upgraded two-way route which will run from A6011 Radcliffe Road to Adbolton Lane, where it will join with the existing shared cycle and footway.
Works on the new route, which will connect residential areas to facilities at Holme Pierrepont Country Park, will include the creation of a cycle track that is segregated from both the pavement and the road.
Via East Midlands, who manage Nottinghamshire's highways on behalf of the county council, will begin works on-site on Monday 10 January 2022.
Councillor Neil Clarke MBE, Chairman of Nottinghamshire County Council's Transport and Environment Committee, said: "It is great to hear that works on this scheme will be starting early in the New Year.
"I was pleased to hear that this scheme had strong local support and it is our hope that the creation of this new cycle and footway will help to embed walking and cycling into daily lives.
"The scheme will cost around £1.24m to construct and will be funded from the £2.178m that the county council successfully secured from the Government's Active Travel Fund. 
"There are so many benefits to walking and cycling, including cleaner air and less congested roads, and we are delighted to be delivering a scheme which will help local people to enjoy both of these safely.
"We know that news of works on the highway may cause concern about possible disruption, but we and our colleagues at Via East Midlands will endeavour to keep communities up-to-date while aiming to keep disruption to a minimum."
"I hope these efforts will result in a great facility and I am confident that road users will be pleased with the final result."
More information about the Active Travel Fund and schemes in Nottinghamshire can be found at: Active Travel Fund - Tranche 2 | Nottinghamshire County Council