Parking restrictions to be introduced on Wood Lane and Yew Tree Lane
Wednesday, 25 January 2023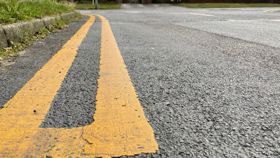 Parking restrictions will be introduced on Wood Lane and Yew Tree Lane in Gedling in response to obstructive parking.
Nottinghamshire County Council will now introduce single yellow lines along Wood Lane and double yellow lines at the Junction of Wood Lane and Yew Tree Lane following consistent complaints from residents about parking restricting visibility and movement in the area.
Parking issues have largely been caused by visitors to Carlton-le-Willows Academy and those visiting Gedling Woods.
The single yellow lines will mean that vehicles cannot wait or park on the side of Wood Lane with the path between 8am and 6pm Monday to Friday which will increase the safety of pupils walking to the academy.
Councillor Neil Clarke MBE, Cabinet Member for Transport and Environment at Nottinghamshire County Council, said: "We have listened to local residents who have told us that parking is a large issue in their area.
"Wood Lane is a key route to access Carlton-Le-Willows Academy, both for vehicles and pedestrians, and it is important that everyone should be able to get to and from their place of education safely.
"It is great that people want to visit green spaces like Gedling Woods, however doing so should not put other road users at risk and it is our hope that these parking restrictions will improve safety in the area.
"Our public consultation showed that there was good local support for the proposals. The single yellow lines will only be in operation in the daytime from Monday to Friday when the issues are most prevalent.
"This will ensure the restrictions have the greatest impact in improving visibility and assisting young pedestrians without unduly impacting upon residents outside of the busy periods."