Outgoing county council chairman raises £27,000 for the Nottingham Ukrainian Cultural Centre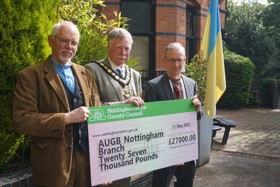 A community organisation which provides support to Ukrainian refugees has received £27,000 from outgoing Nottinghamshire County Council chairman, Councillor Roger Jackson.
He raised the money for his chosen community cause, the Nottingham Ukrainian Cultural Centre, through a variety of fundraising events during his year in office – including a Sunday lunch at Newark Showground which raised more than £8,000.
Cllr Jackson made the presentation to David Dowbenko and representatives from the centre at a meeting of the Council's Full Council on Thursday.
He said: "My time as chairman has been a huge privilege and honour and I will look back on my year with immense pride and a great deal of fondness, particularly the fundraising for the Ukrainian Cultural Centre.
"This was an organisation I really wanted to support and champion.
"It does an incredible job supporting people who have come to Nottinghamshire following Russia's invasion of their homeland, which happened shortly before I became chairman.
"Many have left behind their loved ones, homes, and belongings to settle locally and through the work of the centre they've been able to take advantage and enjoy what our county has to offer until it is safe for them to return to Ukraine.
 "The centre has done so much to welcome guests arriving in Nottinghamshire and acted as first point of contact for many.
"I would like to thank everyone for their kindness and generosity during my year of fundraising and I'm very proud of the people of Nottinghamshire for taking this cause into their hearts to raise this amount of money."
The Ukrainian Cultural Centre is based in the Grade-II listed Clawson Lodge on Mansfield Road in Carrington and acts as a hub for refugees who have been displaced in their war-torn homeland.
It provides a whole host of services to support families and individuals from Ukraine, including mental health, education and housing support.
The money raised by Cllr Jackson will be used to continue with those services as well as carry out a programme of improvement work to the centre's premises.
Michael Holod, branch chairman of the Association of Ukrainians in Great Britain which the centre is a part of, paid tribute to the fundraising effort by the outgoing chairman.
He said: "We are very grateful to Cllr Jackson, his team, and his partner Jilly for what they have done to support us as a group of volunteers in a year which, has unfortunately, been set against a backdrop of very tragic circumstances for us.
"The financial donations and the great support of Cllr Jackson have been truly fantastic and saying thank you to him will never be enough.
"What he and others have done is very important to us and will be forever remembered by everyone at the branch. His donation will always have a special place in our history, and we are very grateful."
Other fundraising activities during Cllr Jackson's year as chairman included a prize draw for council employees which raised £1,000.
ENDS

Pictured is Cllr Roger Jackson, centre, with Petro Tyminskyj and David Dowbenko, who are both committee members at the Ukrainian Cultural Centre in Carrington.