Nurseries celebrated at Food For Life event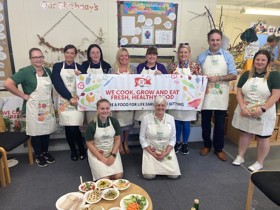 Seven nurseries across Nottinghamshire have been recognised for their participation in the Food for Life award and the positive changes they have made to their food provision for children attending their nurseries.
The Food for Life award was initiated across Nottinghamshire as part of the wider national Childhood Obesity Trailblazer Programme, with Nottinghamshire County Council being one of only five Local authorities selected to take part. This programme has been funded by the Department of Health and Social Care and managed by the Local Government Association.
The event, hosted by the Soil Association, which has worked in partnership with Nottinghamshire County Council to deliver the Food for Life award, took place on Wednesday, 27 July. Three nurseries attended the event: Creative Hands of Broxtowe, Kidzgrove of Mansfield Woodhouse and The Learning Tree of Ashfield. They were praised for planning their year of activities with a focus on food celebrations, improving the nutritional value of meals and their approach to engaging parents in food education, including sharing tips on how to overcome the challenges of fussy eaters.
A spokesperson from Kidzgrove of Mansfield Woodhouse, said as a result of the programme, "We keep our parents up to date via our closed Facebook group, we show them what we are growing or have grown, we also send some bits home to parents and our families to use in their cooking at home such as spring onions or potatoes".
On the day of the event, Councillor Tracey Taylor, Cabinet Member for Children and Young People, presented Laura Jones, manager of The Learning Tree with their Food for Life award certificate.
Councillor Taylor said: "This has been a joyful celebration. It is an absolute honour to be here and to see Nottinghamshire nurseries recognised for the work they are doing to promote healthier eating and giving children the best start in life."