Nottinghamshire residents urged to take on the One-Bag Challenge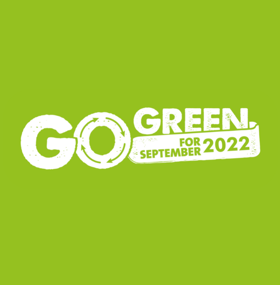 Nottinghamshire County Council and its waste and recycling partner Veolia are encouraging residents to reduce their rubbish as part of Go Green for September with a chance to win some serious eco-friendly prizes during Zero Waste Week. The One-Bag Challenge promises to be a fun and engaging way to get people to think about how much they throw away, with the added encouragement to share their efforts on social media.
As the name suggests, Zero Waste Week is an environmental awareness initiative that aims to help individuals, businesses, schools and community groups to reduce their waste for good. The national grass-roots campaign was founded in the UK in 2008 and takes place annually during the first full week of September. This year's campaign will be starting on 5 September, and local residents are being encouraged to dig a little deeper to discover exactly why it is more important than ever to reduce our waste.
As part of this year's Zero Waste Week Nottinghamshire is launching the One-Bag Challenge, to encourage people across the county to really stop and think about how much rubbish they accumulate over the course of a seven-day period. Nottinghamshire County Council and its waste and recycling partner Veolia will be sharing plenty of useful tips and tricks on how people can reduce their rubbish down to a single bag, with a whole host of prizes on offer for those who engage with the campaign online.
How to take part: 
Take a picture of your rubbish at the end of the week and share your top tip for cutting down to just one bag. It could be a hack we've shared online or your own family favourite – either way, we would love to know what helped you make a real difference.
You can find us on Twitter (@NottsCC), Facebook (@nottinghamshire), or Instagram (@NottsCountyCouncil). So remember to tag us in your 'boast post' and include the hashtag #NottsRecycles so we can see just how well you got on. Spot prizes for our favourite efforts include a reusable cup and bottle set, eco food wraps, eco/zero waste gift set, and zero waste cookbooks so get sharing!
Some top tips for reducing your waste:
Opt for loose products with zero or minimal packaging (or packaging that's easily recycled from home) on your next shopping trip
Aim to buy and cook in bulk where possible rather than individual portions each time
Save resources and money by reducing food waste – who doesn't love leftovers? Check out our Love Your Leftovers Cookbook (www.veolia.co.uk/nottinghamshire/LoveYourLeftovers) or visit www.lovefoodhatewaste.com for some brilliant ideas.
Plan your meals for the week and take a shopping list with you to avoid buying more than you need
Organise random bits and bobs around the house with empty glass jars
Remember packed lunches (in reusable boxes or wraps) aren't just for kids
Get into the habit of using a refillable water bottle and reusable shopping bags
Look for multipurpose products rather than buying lots of different bottles
Only print or photocopy when really necessary – and use both sides where possible
Try home composting your garden cuttings and vegetable peelings, egg shells and even coffee grounds
Opt out of unsolicited junk mail by contacting optout@royalmail.com or www.mpsonline.org.uk
 Councillor Neil Clarke MBE, Cabinet Member for the Transport and Environment at Nottinghamshire County Council said: "There are plenty of changes we can all make to reduce our waste. They don't have to be big, but by making the effort we can help to save the environment and possibly our finances too! I'm a big fan of my refillable water bottle, because it reminds me to stay hydrated and stops me buying water in single use plastic bottles or using plastic cups."
Julie Adams, Contract Performance Manager for Veolia Nottinghamshire said: "Recycling as much as we can will reduce the amount of rubbish in our general waste bins. Don't forget that some items that can't be recycled in your home recycling wheeled bin, such as old clothes, metal saucepans, electricals, batteries and wood are accepted – just a short trip away at local recycling centres."
To find your closest recycling centre visit: www.nottinghamshire.gov.uk/waste-and-recycling/recycling-centres
- Ends  -